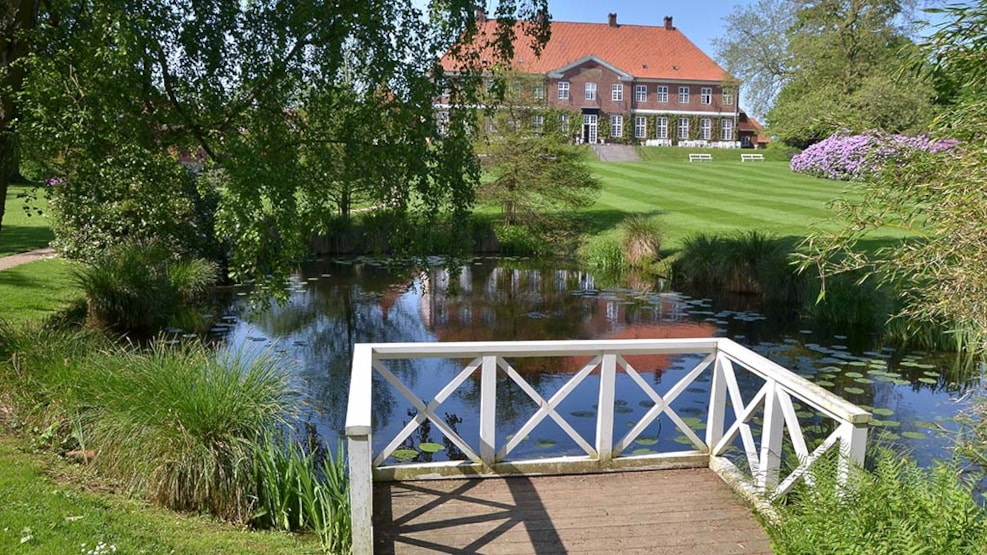 From Coast to Coast 5 km
Kulturøen - Teglgårdsparken
Between KulturØen and Teglgårdsparken, the route follows the blue clover path and takes you from coast to coast in Middelfart. This route is ideal for people who want to experience Lillebælt from both sides and enjoy the beautiful scenery on the Hindsgavl peninsula. From the harbour promenade, there is an excellent view of both the Old and the New Little Belt Bridge, and the old harbour offers sailing, fishing or whale watching excursions. Between the Old Little Belt Bridge and Øksenrade Forest, the route passes cliffs with glittering black and white sand, which Middelfart supplied to the chancellery in Copenhagen in the 1800s. In addition to the unique scenery, the route also has many cultural experiences to offer. It takes you past Adlerhus, the Teglgård fishing hamlet and the old lunatic asylum. Adlerhus was the gateway to the Hindsgavl manor house and marked the border between the town and the manor property. The lunatic asylum opened in 1888. It functioned as an independent society with 700 beds, own gas and waterworks, a church and a graveyard as well as staff accommodation. It closed in 1999 and has since been converted into the mixed commercial and residential area called Teglgårdsparken. The Teglgård fishing hamlet was named after a brickworks that was located in the area in the 1500s. This was also where porpoise hunters had their storage facilities until 1898, when the guild was disbanded. In the mall in Middelfart you can find specialty shops, cafés, museums and galleries that entice you to take a well-deserved break.
Bitumen and forest roads.
See Links section for map. If you need GPX files for GPS, follow the link to the route map and download it from there.
Sights
Adlerhus
Fiskelejet Teglgård
Accommodation
Hotel:
Hindsgavl Slot
Comwell Kongebrogaarden
Sinatur Hotel Sixtus
Hotel Borgmestergården