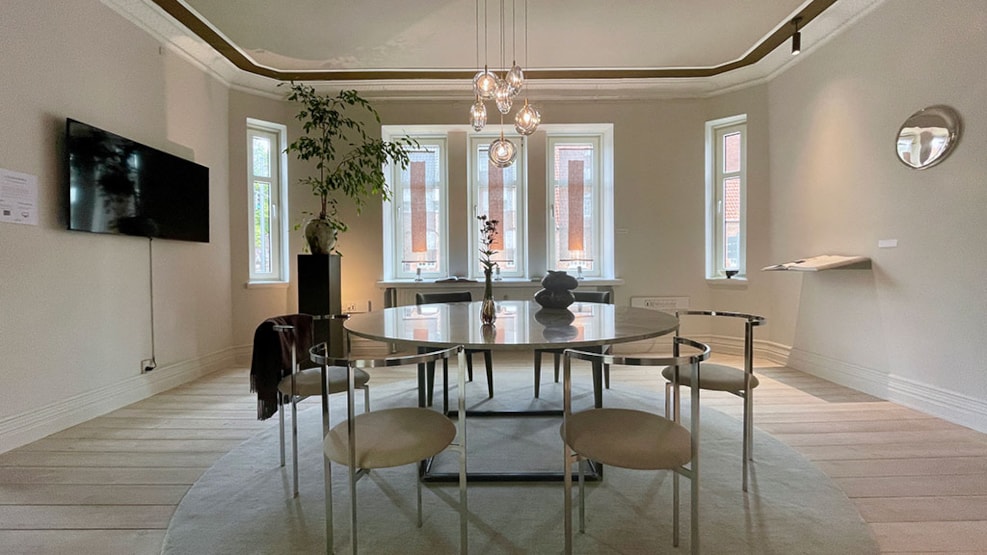 Dekoform Interior - Meeting Place
Meeting space in the heart of Odense, right by the river and with Munkemose in the backyard.
Dekoform is an interior design company that offers the most beautiful, exclusive meeting facilities and rooms for meetings and events in an old stately apartment with Munkemose and the river Odense in our backyard. The venue offers a completely new setting in which to hold meetings, where meeting participants are allowed to touch and feel design in different spaces, designed specifically for users to realise what design can do and what it can do to us.
Welcome to Dekoform, a magical place where design, art and a cosy atmosphere merge to take your meeting experience to new heights. Our meeting room/dining room is equipped with the latest and most advanced AV equipment and a handy flipchart.
But it's not just in our meeting rooms that you'll find inspiration. The entire apartment is a vibrant art and design experience where you can immerse yourself and let your thoughts flow freely as you move around the entire apartment.
Even though we are in the centre of the bustling city life, you will feel a special sense of calm and harmony, as if the beauty of nature embraces you. The nature around us characterises our location in a unique way. That's why we want our guests to experience our location in their own unique way. We have customised routes according to time and the steps you want to take.
Dekoform emphasises the concept of SPACE in motion, referring to the fact that the space around us is constantly changing and moving. The apartment here on Filosofgangen is designed as a home, where design and the combination of aesthetics and comfort are carefully matched. That's why we at Dekoform want you to take this feeling with you when you leave Filosofgangen 24.