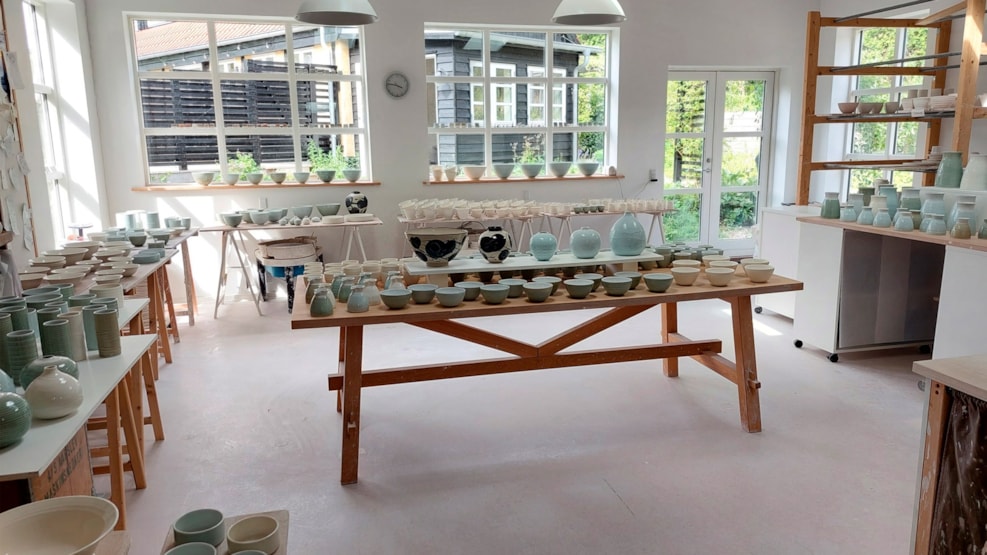 Det årlige 2.sorteringssalg i Potteriet
Traditionen tro finder Potteriets 2. sorteringssalg sted i Kristi Himmelfartsferien
2. Sorteringssalg
Det årlige 2.sorteringssalg finder igen sted i Kr.himmelfartsdagene, hvor pottemagerne atter finder kasserne frem fra gemmerne og stiller keramikken op på værkstedet.
Vanligt med startdag torsdag. Der plejer at komme rigtig mange folk på 1.dagen, hvor udvalget naturligvis vil være størst.
Resten af udvalget stå fremme på værkstedet weekenden over, hvor man også er velkommen - alle 4 dage kl. 10-17
Der vil være 2.sortering fra årets produktion - brugskeramik såvel som unika til gode priser.
Hånddrejet keramik i porcelæn og stentøj - se evt. flere inspirationsbilleder på facebooksiden og 
www.potteriet.com.
2.sorteringskeramikken byttes ikke.
Tag gerne en kurv/taske med til at have tingene i, så sparer vi på emballagen. Har man mulighed for det, kan man også tage små viskestykker eller lignende med til at svøbe om, for at spare på indpakning.
Ceramics workshop and boutique
The Pottery is a pottery studio and an associated shop located in Stoense on north Langeland. Potters Esben Langkilde and Jannie Nielsen work in both stoneware and porcelain producing both everyday and unique artistic items. All their ceramics are turned by hand in their own workshop and are rooted in a strong craftwork tradition combined with contemporary, functional design.
Biography
While learning to be potters Jannie Nielsen was apprenticed with Bottani-Dechaud in France, and Esben Langkilde was an apprentice with Marie Würtz and Kähler in Denmark.
Visit The Pottery
The shop is open all year round - please check their website for current opening hours.