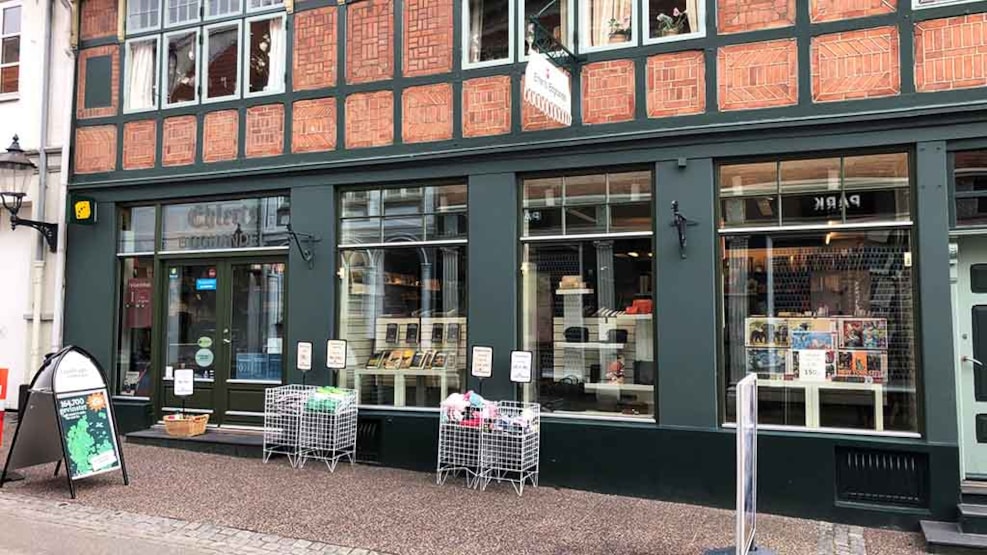 Ehlerts Boghandel
Ehlerts Boghandel in Bogense is more than 160 years old and still a cozy bookstore with lots of good books - and lots more on the shelves such as games, bags and office supplies.
Ehlert's has existed as a bookstore for more than 160 years in Bogense.
Here you can buy books about Bogense and North Funen, bestsellers, biographies for children's books - and you can also buy maps.
You can also find office supplies, many exciting and beautiful puzzles that can probably give the whole family challenges, lots of different games as well as lotto and lottery, and you can also find leather bags and purses in the store.
At Ehlerts Boghandel you'll get good service, and you are always welcome.
Opening hours
Monday - Friday at 10.00- 17.30
Saturday at 10.00 - 13.00
Sunday: Closed
The story
The bookstore was established on December 11, 1860 by Rudolph Holck. At that time the company was called Rudholph Holck, and here was also a state telegraph station and a war telegraph.
Rudolph Holck died on 30 November 1900, and on 16 April 1901 the bookshop was taken over by Niels Ehlert, and ever since it has been called Ehlerts Boghandel.
On October 1, 1940, the bookstore was taken over by Svend Kjøng Vestergaard, but in 1947 it was bought by Mogens Hald, and ever since, the bookstore has been owned by the Hald family.
In 1975, Carsten Hald took over the bookstore after the death of his father Mogens Hald.
In 2015, Carsten Hald's daughter Rikke Hald took over the bookstore, and the story of the old bookstore in Bogense continues ...