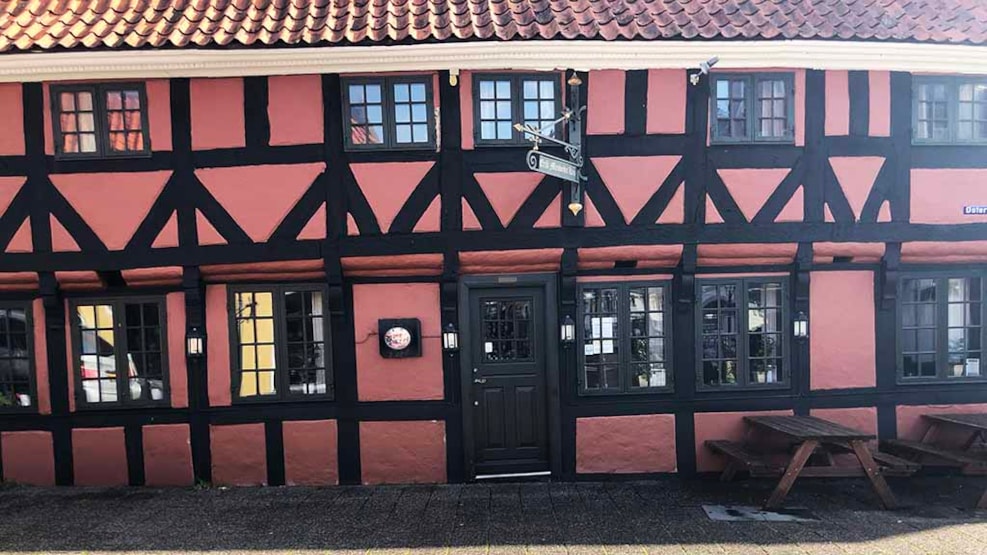 Erik Menved Kro - half-timbered house
No, the inn was not founded by King Erik Menved - but Erik Menveds Kro is one of Bogense's oldest houses and is also Funen's oldest inn.
Erik Menveds Inn, a beautiful half-timbered house, is the oldest inn of not only Bogense, but all of Funen, dated back to 1543.
The place is named after the king Erik Menved who, in 1288 gave Bogense its municipal charter.
The inn has only been called Erik Menveds Kro from 1987. Before that, the inn and restaurant for many years was called Landbohjemmet and Frk. Petersen's Restaurant Landbohjemmet (Miss Petersen's Restaurant the country home). There has always been a restaurant in one part of the building, but there has also been a watchmaker's, a wood turner's workshop, a jeweler and other shops in other parts of the building.

In town and in local gossip, the building is called "the eye". Tradition says that once a watchmaker white washed all the windows, and then he made a peephole and watched people in secret through the "eye".