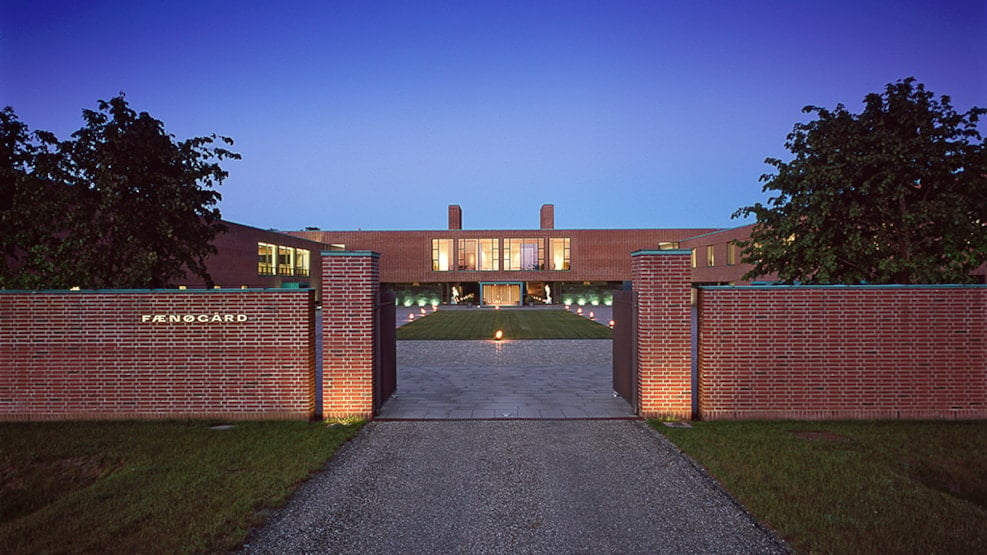 Fænø Gods
On the private island Fænø in northern Lillebælt (The Little Belt) lies Fænø Gods (manor), and it is a modern interpretation of an estate in cooperation with the island's nature. In these unique surroundings of modern architecture, art and design we organize conferences, meetings, parties and exclusive dinners, or just a discreet stay. Fænø belongs to our guests, as long as they stay on the island. Kindness, discretion and efficiency are the key words for the service, we offer to the guests staying on Fænø. In the private surroundings of the estate, you can meet in an informal but exquisite way, and you can feel quite at home. Beauty and aesthetics are the trademarks of Fænø, and we can boast of having some of the best architecture, nature, art, food and staff in Denmark. It is the special combination of these elements that makes Fænø personal and unique. The nature at Fænø is an experience in itself. After the millennium around 700,000 trees and bushes in more than 30 different species are planted on Fænø, and all the 400 rolling acres of the island are a forest reserve - with a deafening silence and an unusual abundant wildlife. Fænø Gods is a discreet sanctuary - outside category.
Conference facilities
Fænø Gods offers modern, tasteful comfort in stylish and versatile meeting rooms - each with their own individual characteristics. In the banquet hall on the estate, which is designed as a multifunctional room, we can house up to 80 guests. The hall offers modern AV equipment including screen, projector and wireless microphones. Other amenities and facilities such as dining room, game room, library, lounges, fitness studio and more are available to our guests. Moreover, the premises in the different and completely individually designed guest houses scattered around the island, can accommodate from 10 to 45 guests. The hunting cottage Bakkehuset, the high-ceilinged Skovløkken, the still functioning Fyrhus and Smedehuset with a breathtaking view of Lillebælt (The Little Belt). Free WiFi is available everywhere on the estate, on the island and in the guest houses.
Fænø Gods is the exclusive venue – in a flawless category
Restaurant
Thus, in the kitchen at Fænø you will either Master Chef Paul Cunningham of Henne Kirkeby Kro, Master Chef Mark Lundgaard from Kong Hans's Kælder or Sous Chef Jeppe Christiansen from Restaurant Hjemme. Each team guarantee a high culinary level. In February 2016 Henne Kirkeby Kro and Paul Cunningham were awarded with their first Michelin Star, and already a year later in February 2017 they were honoured with a second Michelin Star. Also Kong Hans's Kælder by Mark Lundgaard achieved a Michelin Star in 2016, and they have both maintained their status. Amidst the beautiful surroundings at Fænø the catering is is of the highest standard and designed according to your wishes.
Accommodation
Fænø Gods: features 3 suites and 8 double rooms with bathroom en suite. All room interior is a little out of the ordinary. A continental Hästens bed combined with beautiful interior consisting of Danish design and international art. The modern architecture in combination with the historic setting results in a unique manor of 2.6oo floor meters. The main building contains of a hall, lounge, library, dining room, fitness studio, large banquet hall and café.
Smedehuset: 150 m² guesthouse with 1 suite and 2 double rooms. Is located high in the countryside overlooking the 'Black Holes' and Lillebælt (The Little Belt).
Skovløkken: 120 m² guesthouse, with high ceilings and includes 3 double rooms, one overlooking the small pond in the garden. The other two have views of the large meadow.
Bakkehuset: guesthouse, built as a modern hunting lodge with one double room and one large game room.
Fyrhuset: Guesthouse from year 1900 and the light house on Fænø, still functioning as a homing device. Refurbished in 2006 with 1 double room and 1 triple room.
Total no of rooms: 16 of with 3 are suites
Fænø Gods is the perfect – world class- refuge.