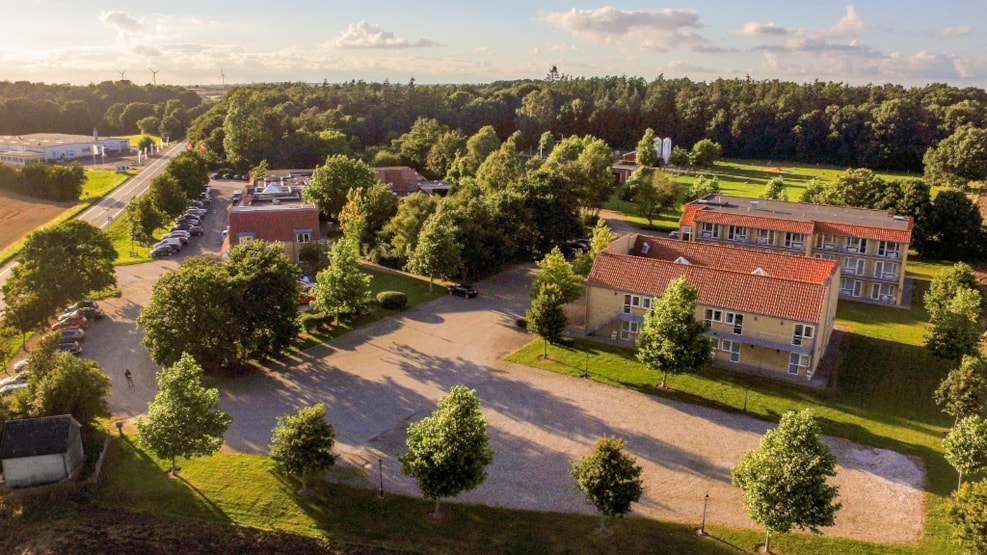 Fjelsted Skov Hotel & Conference
Between Middelfart and Odense, you will find Fjelsted Skov Kro. We have run the family owned inn for three generations and still focus on quality, personal service and a homely atmosphere. We have 78 modern double rooms, many of them with views over the inn's own fields. In addition, we have ten conference rooms, the largest of which can accommodate 200 participants. Fjelsted Skov Kro has over ten hectares of land and our guests are welcome to stroll along the paths and tracks over the fields and through the woods. Enjoy the wildlife along the way as well as the free-range pigs and sheep.
Conference facilities
Centrally located in the middle of Denmark.
• 10 modern conference rooms.
• Whiteboard, projector and Apple AirPlay in the rooms.
• Up to 200 participants.
• 100 megabyte fiber net wi-fi throughout the inn.
• 78 modern double rooms.
• 10 hectares out door area ideal for outdoor activities.
• Accommodation for up to 156 guests.
• 300 free parking spaces.
Restaurant
Our food is rooted in the homemade traditional Danish kitchen but we explore other cultural cuisine. Our food is prepared based on traditions started in 1976. These traditional recipes have been given a modern touch, while still maintaining the essential elements of the dish. We do not compromise with quality and therefore we bake our own bread, smoke our own salmon, and pickle our own beetroot, to mention but a few. In brief almost everything is homemade.
Our rooms are in a tasteful modern Danish design with wi-fi and TV.
On the fields nearby you can see our free-range pigs, that provide meat for our restaurant, and if required we can arrange a spit roasted pig.
Go for a run
One of the features of Fjelsted Skov Kro is the countryside surroundings. Go for a run or a walk along the network of paths and meet the sheep along the way. If you are lucky, you may see lambs.