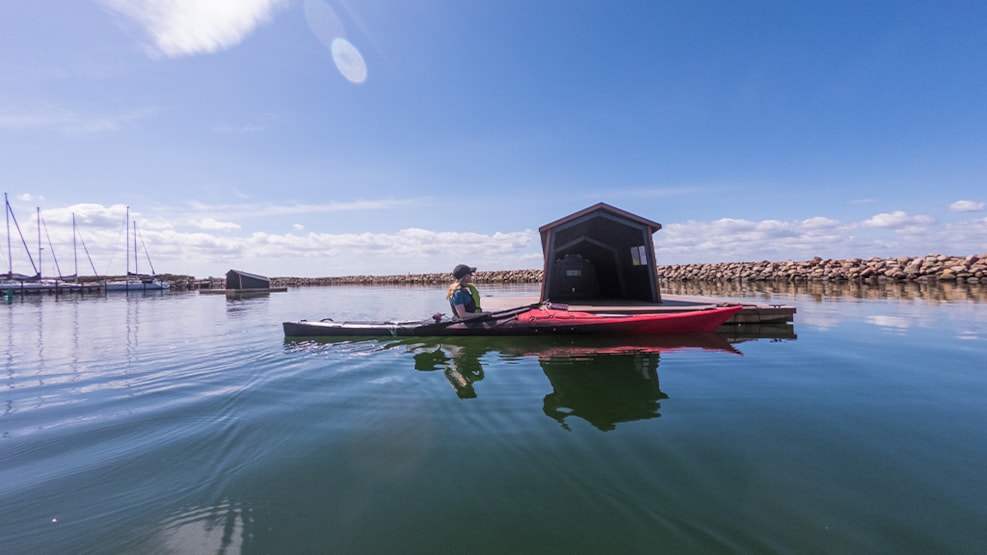 Floating shelter in Bogense Marina
Enjoy a completely unique holiday in floating shelters in Bogense Marina - a wonderful overnight stay between the sky above and the sea!
In Bogense you will have the opportunity for a completely unique shelter experience, on one of the floating shelters located in Bogense Marina.
On land, there are both toilet facilities, barbecue area and opportunities to refuel on water.
It is also possible to use a Trangia or similar equipment on the designated iron plate in the shelter.
So, it is possible to make both dinner and morning coffee at sea.
There are 2 shelters consisting of 2½ sleeping places.

Note: It is only possible to get to the shelters if you have a boat, kayak, canoe, or something similar. It is not possible to be transported out there by the staff at the harbor. In addition, it is a requirement that there must be one life jacket per. person on board the shelter. These are to be brought by oneself.
It is not allowed to put up tents at the marina.
Book a shelter in Bogense Marina