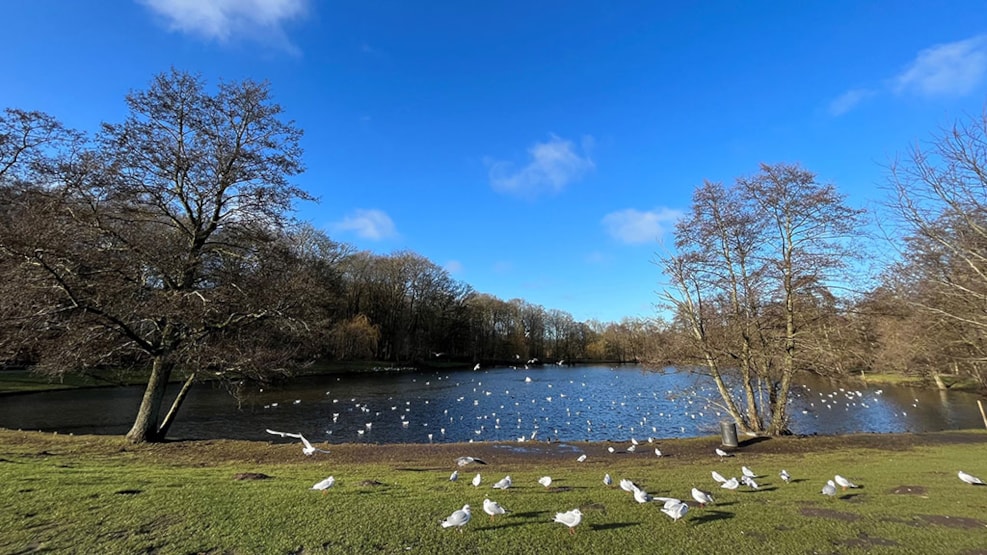 The Forest Lake, Fruens Bøge
A green area
Odense is full of beautiful green areas that invite you to go for a walk, a bike ride, or sit and relax in green surroundings. One of these places is Skovsøen. Skovsøen is located opposite the meadow at Fruens Bøge.
Part of Fruens Bøge
Skovsøen is part of Fruens Bøge, which consists of 24 hectares of recreational forest, a residential area, the open-air museum Den Fynske Landsby, and the old station Fruens Bøge Station, where you can grab a coffee at Velodrom Kaffebar. In addition, Fruens Bøge is the terminus of the popular Odense Aafart.
Activities at Skovsøen
In summer, it's popular to grab an ice cream or something at the Waffle House Skovsøen, but you can also drop by Den Fynske Landsby, which is just a stone's throw from the lake. There's also plenty going on in the summer right next to Skovsøen at Engen. This is the home of the Odense Summer Revy, and for Sankt Hans, the Engen has also been used for setting up Sankthansbål. In addition to the Waffle House Skovsøen, you can also visit Fruens Bøge Station, now Velodrom Kaffebar.
The history of Skovsøen
Skovsøen was excavated during World War I, and the meadow next to it was frequented by Odenseans with picnic baskets. The lake was excavated as part of a work release project and is now enjoyed by Odense residents and tourists alike in spring, summer, autumn and winter.