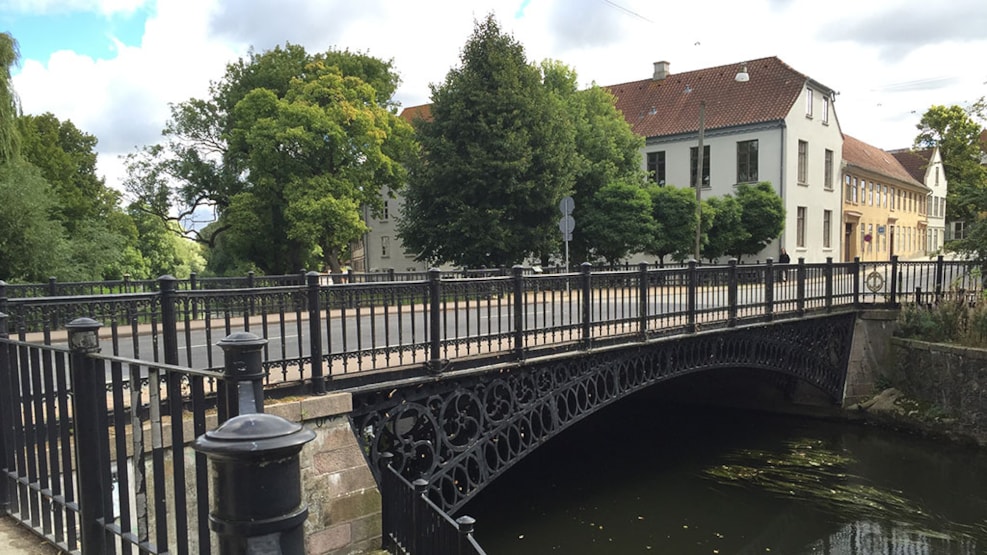 Frederik's Bridge
Denmark's First Cast Iron Road Bridge
Frederiksbroen (Frederik's Bridge), across the river, Odense Å, was Denmark's first cast iron road bridge. It was built in 1844. Frederiksbroen replaced the old wooden Møglebroen (The Great Bridge), which later (by mistake) became known as Møllebroen (Mill Bridge).
Frederiksbroen was named after the Crown Prince, later King Frederik VII, who at the time was Governor of Funen and lived at Odense Castle. The bridge was officially opened on the Crown Prince's birthday on 6th October 1844 in a ceremony in the presence of the prince himself and his father, King Christian VIII. On the same occasion, the street changed its name from "Outside Mill Bridge" to Frederiksgade.
Today, you can still see the beautiful cast iron bridge, which is especially beautiful seen from the path along the river Odense. From the riverside path, you can access the bridge via stairs to get up close to the elegant railings.