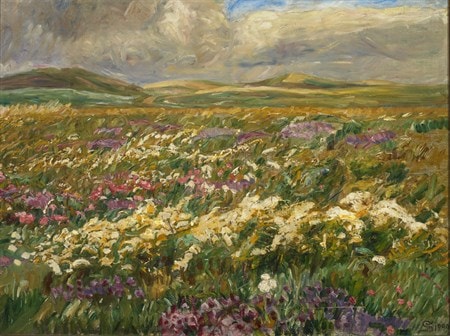 Fritz Syberg: Flower meadow. Funen's Head
It is a beautiful summer day on the countryside of Denmark, more specifically on Funen's Head. The wild flowers of the meadow are the central motif with the soft hills on the background.
The summer light and the color of the flowers combined, as well as the vibrant lights and strong colors make it easy to see Syberg's inspiration in French impressionism – a style that emerged in the late 1800's, where artists tried to capture the fast and visual impression of light and colors on site, rather than the detailed reproduction of objects inside the studio, otherwise customary prior to this period.
Syberg's painting of a flower meadow expresses a spontaneous and strong summer joy. The foreground flowers are made up of short, coarse, vertical and color-saturated strokes that reproduce the meadows of purple, yellow and pink flowers, and in the background Syberg painted the meadows and the vaulted hills with more flowing, water-straight strokes and colors but in the same shades.
The horizon line is high up in the picture, leaving room to give the lush landscape the lead, but above this, a beautiful summer sky shows itself with clear blue colors and a cloud cover, where the blue colors are seen through and the meadow's yellow, pink and purple reflect. In this way, Syberg has captured the special atmosphere of this meadow, which is beautifully spread on Funen's Head, surrounded by water on almost every side.
The meadow can still be found there, but the cows and sheep that walk on it nowadays usually eat the summer flowers.