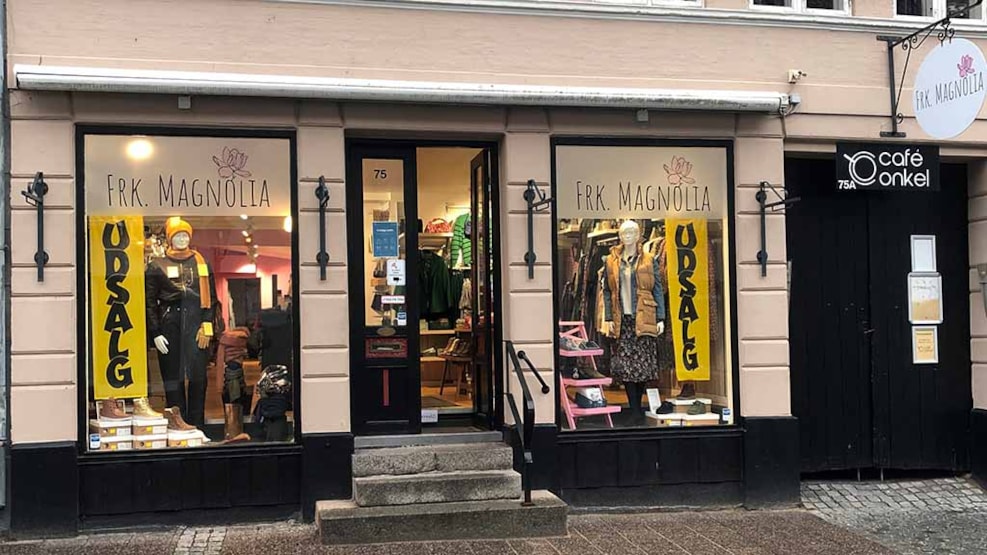 Frk. Magnolia
Frk. Magnolia has designer fashion clothes for women of all sizes, good service and a nice shop with something for everyone!
Frk. Magnolia is an exciting specialty store with nice designer fashion in sizes 34-56.

You can also buy beautiful shoes, pretty bags and jewellery and other fun accessories and gift ideas.

The store has brands like Black Colour, Co'couture, mbyM, Markberg, Zoey and Copenhagen Shoes.

Visit the cozy shop in Bogense or the online shop that is ALWAYS open.
Opening hours
Monday and Tuesday: 09.00-15.00
Wednesday, Thursday and Friday: 10.00-17.30
Saturday: 10.00-14.00
Closed on Sundays
Cafe Onkel
Shopping gives you an appetite and makes you thirsty - so it's very nice that Cafe Onkel is located in the backyard at Frk. Magnolia and offers food of delicious and fresh ingredients, good wines and good service.

See menu cards and opening hours on the café's Facebook page.