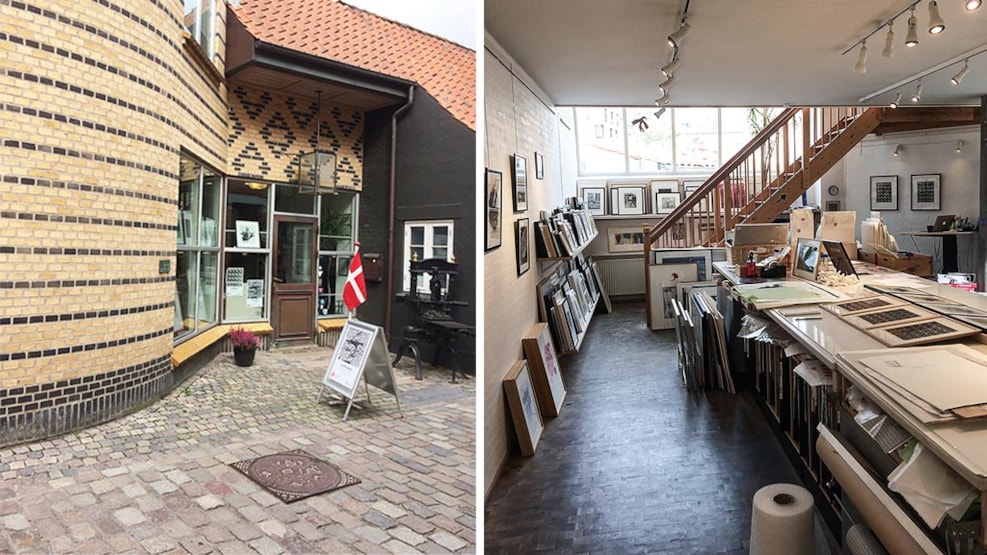 The Funen Printmaking Workshop
Art creates joy and life. The living studio has always seemed like a magnet for curious and graphic-interested people. Printmaking is magical, and we all try in turn to master this magic. We have two studios on two floors and a Gallery-shop "Grafikken", also on two floors. Here we sell hand-printed prints at prices from DKK 100 to DKK 25,000. There are folders you can flip through, lots of framed prints - ready to take home.
In the workshop, our members have the opportunity to work with different techniques such as etching, relief printing, linoleum printing, woodcuts, photogravûres and lithography on a lithographic press. The studios are only used by our members, who are all graphics artists. Being a member of Funen Printmaking Studio is a significant boost, a sure sign that you have become better and have opportunities to develop further with new techniques.
We have almost 300 members from 18 different nations. They come and work with their artworks in the studios when it suits them. There are also guest-artists from all over the world printing their original artworks, giving lectures, or Master Classes.
If you would like to visit us, we are easy to find; directly across the street from H. C. Andersen's birth home in Hans Jensens Stræde, and we have free admission to the exhibitions.