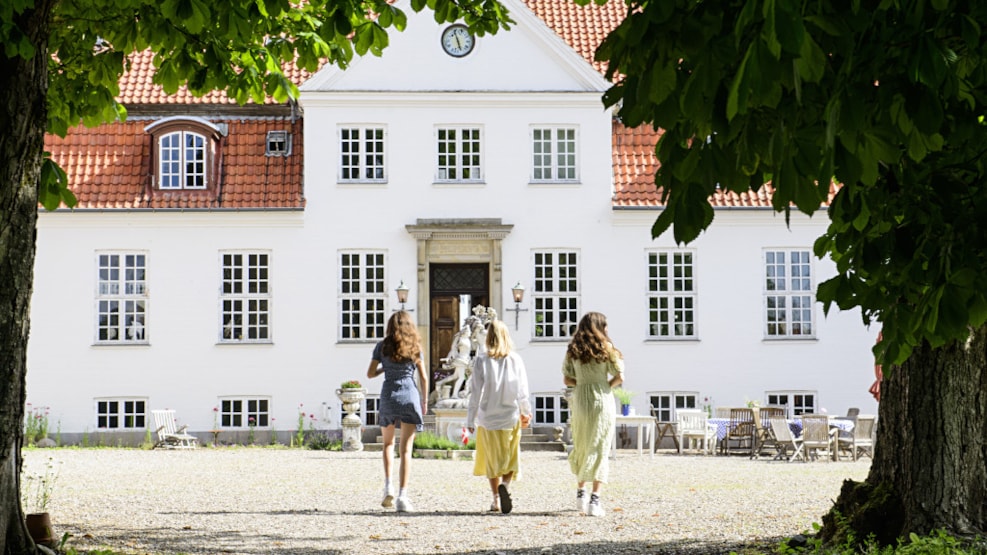 Gelskov Gods
Gelskov Estate Summer B&B july 2021
Gelskov Estate is a well-kept manor house (year 1600/1917), which is rented out all year round as a home for groups - businesses people as well as families and yogaretreats.
The exception is July, where we welcome you to a very special B&B - (all decorated in Gustavian decor style) - each room unique and all with a view.
This one month a year it is possible for smaller groups or singels to rent a room with breakfast - (minimum for two nights.)
During the stay, you have access to all living rooms, kitchens and the entire park on sharing basis.
It provides the most cozy atmosphere - possibility for playing, for conversation, newspaper reading near by the open fireplace and lots of quiet moments - outdoor or inside. We have set up a room for reading and a game room - chess and backgammon. We have a garden room with grand piano and direct access to the porch overlooking the river and meadows with grazing cows.
Please note that there is shared toilets opposite the rooms.
Only the suite has a private bathroom in the room.
Outdoors there are fire pits, a large barbecue and various old-fashioned play equipment - ball games, balance beams, stilts, petanque court, swings and hammock.
In addition, sale of antique French interiors.
There is free parking quite close by.
Direct access to hilly running and cycling routes right outside the door.
2 km from the estate there is a gravel pit with a jetty for a cold swim and 14 km to the beautiful South Funen sandy beaches and the archipelago.
We have fridges to store your own brought lunch and dinner, and plenty of opportunity for take away and good restaurants in the neighbourhood.
Please note that your stay is based on the fact that you clean up your own stuff in all common areas.
All precautions in relation to Corona are taken!
Please help us to keep up all good habits.
NOTE! We accept mobilepay, bank transfer and cash payment, but no credit cards.
Prices per night - including breakfast - (minimum 2 nights)
Per person in a double room 625, -
Single room 750, -
Supplement for the Suite 400, -
Extra beds for children 0 - 12 years in parents' room 250, -
For longer stays - please contact us for offers.
Breakfast daily from 8 am to 10.30 am
Our lovely breakfast is homemade and organic:
2 kinds of home-baked bread, 3 kinds of cheeses, butter, home-pickled jams, locally produced spiced sausage, skyr with topping, avocado salad, fresh fruit, freeland eggs, juice, freshly brewed coffee and tea ad libitum.
Check in from 3pm
Check out 11 - 12 p.m.
NOTE! If you do not notify your arrival until 5.30 pm on the day of arrival, we reserve the right to rent the reserved space to someone else.