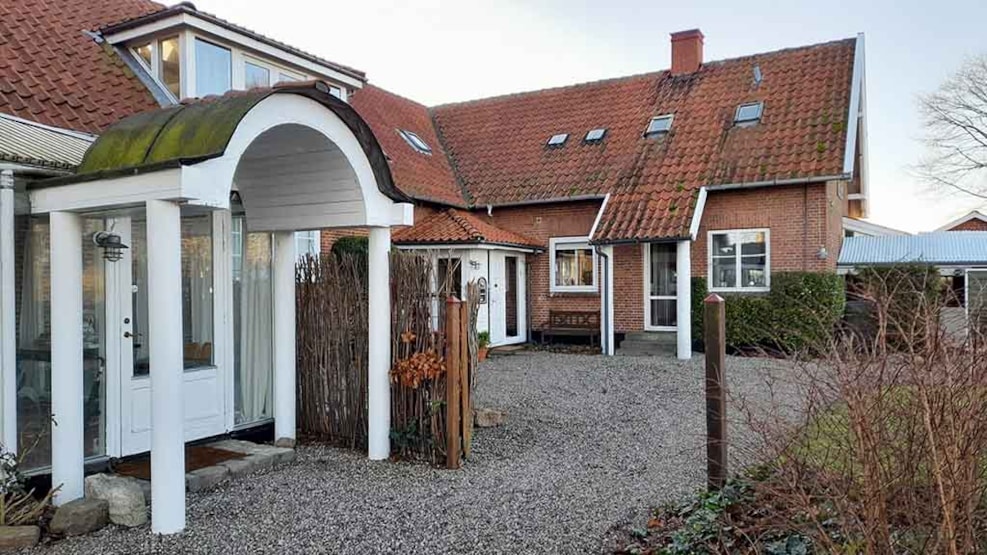 Guldbjerghus
Accommodation in peaceful idyll in the countryside just 5 km from the beach, harbour and town - Guldbjerghus offers a really cosy holiday in a B&B or holiday apartment!
Guldbjerghus is about 5 km from Bogense with its beach, harbour and shopping facilities, and it is also only 5 km to the golf course at Bogense Golf Club. At Guldbjerghus you can choose between a stay in a B&B or in a holiday apartment.
There is a large, lovely garden with garden furniture and access to barbecue facilities by arrangement.
Bed & Breakfast
Guldbjerghus offers a wonderful B&B stay:
Three double rooms on the first floor, sharing two bathrooms just outside in the hallway
One double room with private bathroom
Bedrooms are fully furnished with bedding and towels, kettle for coffee or tea, cups, glasses, cutlery, plates, cable TV and free WiFi
Arrival from 16:00 to 18:00 or by prior arrangement.
At 5pm on the day of arrival, the host couple will serve a drink or coffee and a small snack.
You can enjoy a delicious homemade breakfast in the dining room at 08:00-09:00 or by appointment.
B&B pricing
Price for a double room including breakfast: DKK 800,- per night.
Price for room with private bathroom: DKK 850,- per night
Contact the host couple and get a special price for more nights.
Holiday apartment
Guldbjerghus rents out a lovely holiday apartment consisting of:
Two double rooms, each with its own bathroom
Guest toilet with washing machine
Large living room with TV and free WIFI
Dining area and large well-stocked kitchen area with dishwasher, fridge and freezer
At 17:00 on the day of arrival, the host couple will offer you a drink or a cup of coffee with a small snack.
Holiday apartment pricing
The price is for a maximum of 4 people in the apartment.
Until 1 May 2023 DKK 2800,- per week,
1 May to 1 September 2023 DKK 4800,- per week
The price includes light, water, heating, internet, bed linen, towels and final cleaning.
Guldbjerghus from school to B&B
Guldbjerghus was a school from 1934 until the little town was merged with Bogense Municipality in 1965. Since then the house was used by an artistic collective until the old school was converted into the Guldbjerghus restaurant in 1985. There was a restaurant in the building until 2001, and since then there have been B&Bs and holiday apartments. Guldbjerghus has been renovated several times.
Guldbjerghus is close to the old Guldbjerg Church.