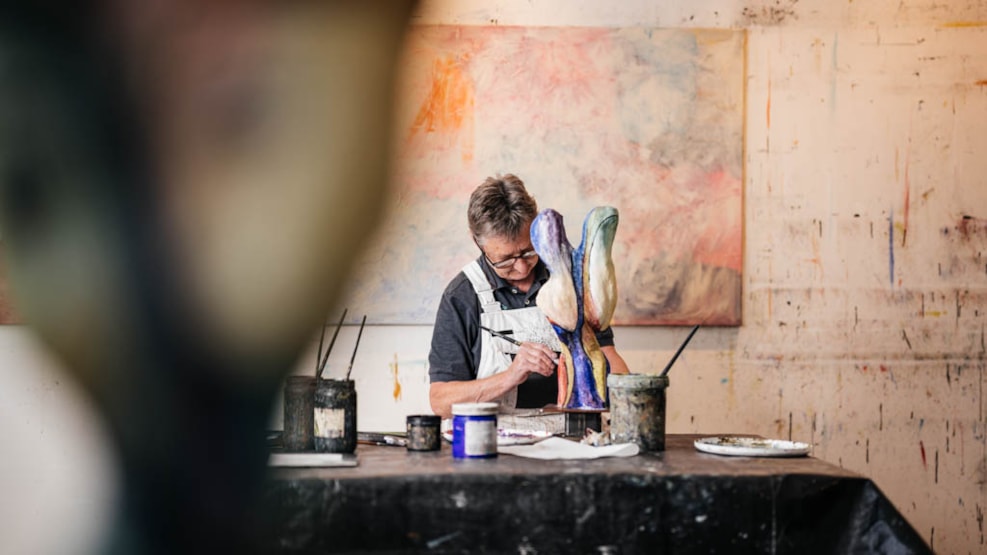 Henriette Lorentz - Sculptor and Painter
Henriette Lorentz works both as a sculptor and a painter, often letting the two art forms be in dialogue with each other. Her style is very recognizable with imaginary creatures, mythical animals and patterns painted in strong colors
Mythical Creatures
Henriette Lorentz's style is subtle, imaginative and colorful. She has created a surrealistic universe, filled with mythical creatures, imaginative animals and organic patterns that weave in and out of the picture's surface. Nature, which has become much more savage over recent years, has over time gained a much greater place in Lorentz's work, her creatures moving a little more into the background, taking refuge in nature.
Biography
Henriette Lorentz was born in 1954 and graduated from the Aarhus Academy of Art in 1974. She later studied design at the Margrethe School, afterwards working with coloring and printing textiles for a number of years. Since 2006 she has devoted herself to her art full time.
If you would like to see more…
You can visit Atelier Lorentz, located in Østergade 26, Rudkøbing. The charming old building houses both a working workshop and a gallery. In addition, Henriette Lorentz is currently in Kunsttårn 12 (Art Tower 12) on the road Vestervej near the town Bagenkop.