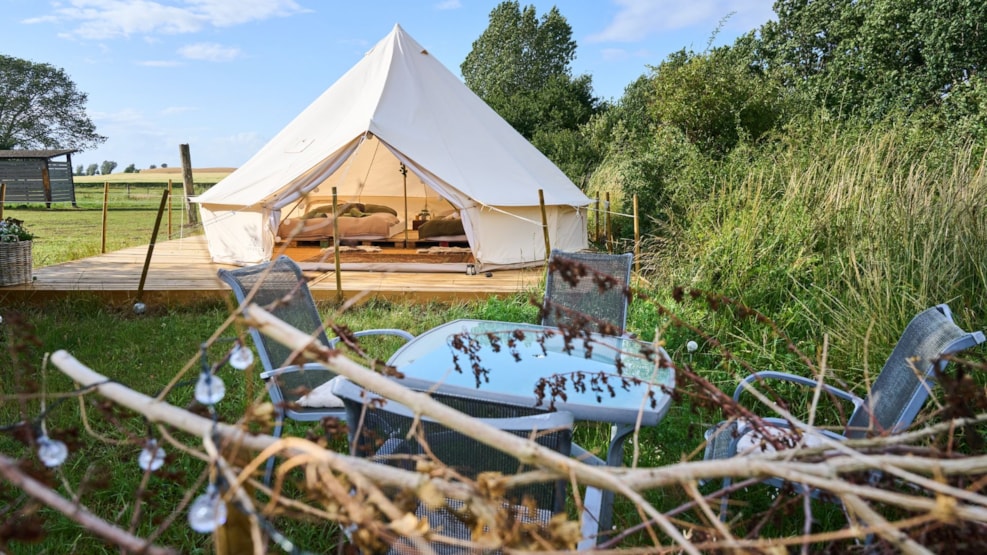 Hesselgaard Glamping
Hesselgaard Glamping - luxury tents in beautiful surroundings
At Hesselgaard Glamping you can experience the delicious outdoor and outdoor life seasoned with luxury. All tents are tastefully furnished like small hotel rooms with cozy furniture, lights and beds. The beds are made with the delicious muslin bedding, which gives a wonderfully warm feeling from the first moment you crawl under the covers. At the same time, there is delicious cozy light mainly from solar-powered chains and a bit of battery light that can also be switched on.
Tents are not always enough even for cool outdoor people, so you also get a little extra luxury with us. We have established delicious solar-heated outdoor showers that you can freely use. The weather is a bit of a master over the temperature of the bath, but on the other hand it is with a beautiful view over the fields for the highest. You can also use our practical and odorless multi toilet, so there is no need to dig holes in the forest. You share the bath and toilet with the residents of the other two tents on the property.
Without food and drink, the hero cannot survive. Therefore, you have access to a shared fridge and freezer as well as a kitchenette with toaster, kettle etc. At the same time, there is space for you to sit and eat with a roof over your head, if the weather is not suitable for eating outside. You also have a barbecue at your tent's disposal, and you can also use a shared fire pit with free wood, coal etc. You must bring your own food and coal for the barbecue.
In addition to the delicious tents, you will find yourself in lovely, quiet surroundings, where there is plenty of space and a view of a small plantation, a small pond or the winding fields.
Hesselgaard Glamping is also an obvious place to spend the night for families with children and other visitors who like animals. The property has three cats who roam around and often want to be cuddled. We also have the cutest outdoor bunnies that you can pet in their large enclosure. In addition, we have two larger, calm horses who also like to be petted. Last, but not least, you can meet our really cuddly and talkative dog, Chili, who is very happy to stop by you in the square. It is naturally expected that everyone treats the property's animals well.
Only 10 minutes' walk from your luxury tent you will find both forest and a lovely beach. The beach is very child-friendly, as it often has sandbanks where you can dig and build sandcastles.
We look forward to welcoming you at Hesselgaard Glamping.
Book a stay
Contact Bibi from Hesselgaard Glamping:
Email bibi@hesselgaard.dk

Telephone +45 2515 5433

You will also find us on Airbnb, booking.com and owayy.