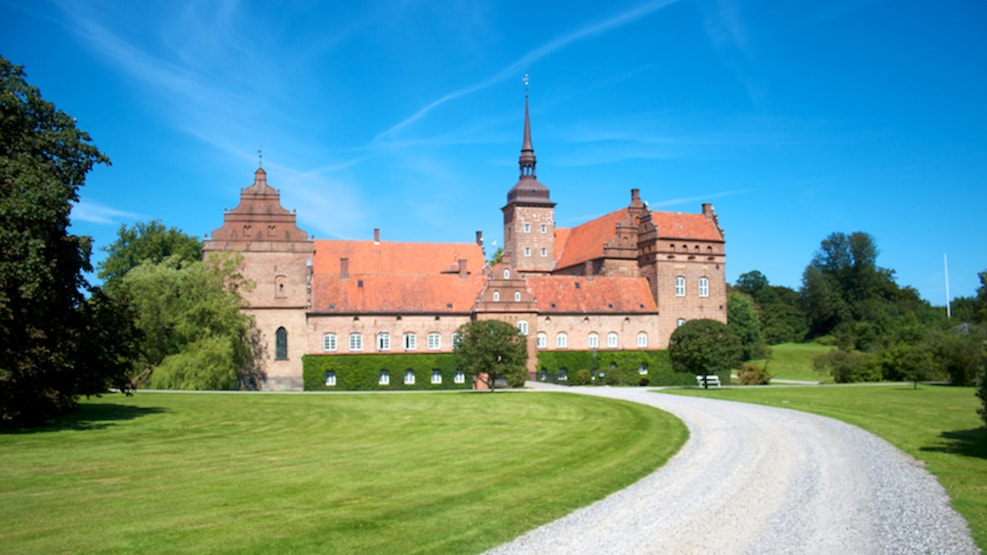 Holckenhavn Fjord and Vindinge Å river (9,1 km)
The evening sun goes down and the birds land on the mirror-like Holckenhavn Fjord. That is often just how it is. Enjoy the countryside here along paths following a disused railway, through bogs and salt marshes, past castle mounds and sacred springs.
Holckenhavn Fjord and the Ørbæk Å river valley were shaped during the Ice Age when a glacial tongue filled the entire Great Belt and the land surrounding it. Meltwater rivers flowed through tunnels under the ice and were so powerful that they carved valleys in the underlying soil.
Both Vindinge Å river and Ørbæk Å river flow into Holckenhavn Fjord. With the higher water level during the Stone Age, the fjord extended all the way to Bynkel in the Ørbæk Å river valley, and as far as Vindinge in the Vindinge Å river valley. However, following a slight land elevation and the build-up of sand, silt and peat from the two rivers and vegetation along the banks of the fjord, parts of the fjord have filled up over time.
There is tremendous biodiversity in the marshes and salt meadows of Holckenhavn Fjord, and orchids can be seen growing at the outlet of Ørbæk Å river. The fjord is an excellent area for bird watching, where there is an abundance of ducks, geese, swans, coots, etc.
You may also catch a glimpse of the osprey and other birds of prey, especially during the migration season. Grey herons and the marsh harrier also breed in the area.
Holckenhavn Fjord and the Ørbæk Å river valley are one of around 200 areas in Denmark of national geological interest.
In addition to the marked route, there are several other possible walks in the area. Starting out from the dam at Holckenhavn, you can choose to walk along Gl. Vindingevej to the marked path on the old railway to Vindinge Å river, and from there along the path to Vindinge. From Vindinge, walk along the public road through Rosilde to Bynkel and then back to Holckenhavn.
There are several places in the area offering wonderful views of the fjord and river valley, where you can picture the Viking ships sailing up the fjord towards Vindinge and Gammelborg – the predecessor of Nyborg Castle – 1,000 years ago.