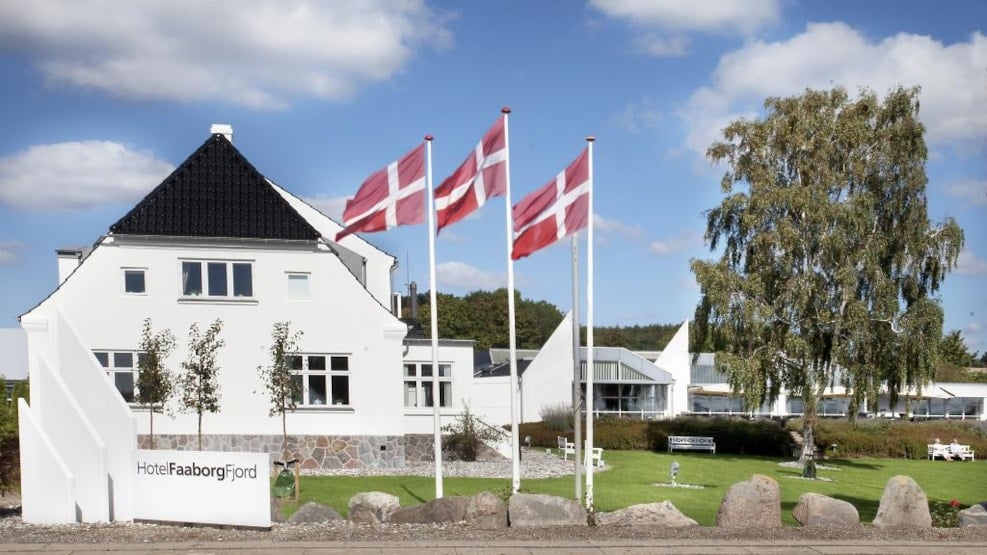 Green Experience
Hotel Faaborg Fjord
Restaurant
We welcome you to Restaurant Vinoteket at Hotel Faaborg Fjord. The restaurant is located with panoramic views of the South Funen archipelago and in the middle of nature. Our dedicated staff has a friendly and professional approach to our guests and you can expect an outstanding and warm welcoming service - that is the essence of the soul of South Funen.
All our menus have been developed based on Nordic cuisine. We focus on delicious, fresh ingredients, and we honor organic and local produce, where it is possible. We make sure our chefs have the best high quality ingredients, both in terms of fruit and vegetables as well as fish and meat.
Sustainability, animal welfare, ecology as well as the fruits and vegetables of the seasons are the foundation of our gastronomic adventure, and therefore we do an honest job to accommodate the nature around us. We feel, think and create gastronomy and it will never be at the expense of the environment, nature or our animals.
Our unique wine room is build with a vision to offer a special selection of wines, ranging from the classic wines from larger well-known wineries to the unique, special and handmade wines from passionate small producers.
We have put together a list of wines that goes well with Hotel Faaborg Fjord's Nordic cuisine. Lean back and let our waiters guide you to a complete experience in Vinoteket.
When dining at Hotel Faaborg Fjord you will enjoy a panoramic view of the beautiful South Funen archipelago and we can't wait to welcome you.
Restaurant
Main course: DKK 250 - 300
Restaurant with panoramic views of the Fjord
Large outdoor restaurant terrace with panoramic views
Bar & Lounge areas
A la carte serving
Events and parties
Free parking
4 Clever electric car charging stations