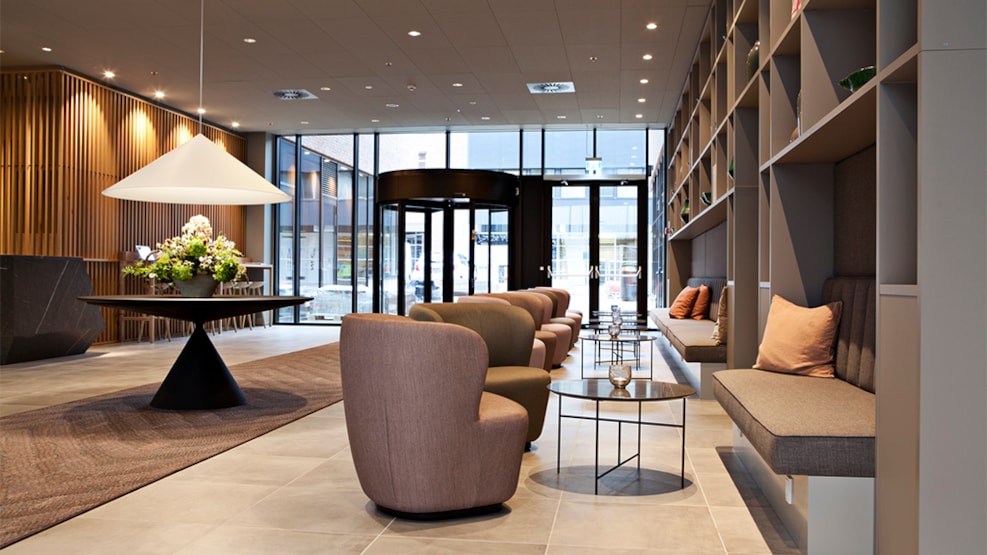 Green Experience
Hotel Odeon
A jewel in the heart of Odense
Hotel Odeon is an oasis in the heart of the vibrant centre of the Hans Christian Andersen neighbourhood, close to shopping, attractions, restaurants and nightlife – and just a few meters walk from congress and cultural centre, ODEON.
We are combining first class international standards with the best of Funen, inviting relaxation and leisurely contemplation, in a warm and calm ambience.
At Hotel Odeon we aim to create the perfect fusion of global and local. The standard is international, the decor is Scandinavian and the atmosphere is warm and relaxed. We use digital solutions to make your stay as easy and simple as possible. But our employees are real people. We do not have any manuals that dictate when to smile. It comes naturally – and from the heart – as it belongs to Funen.
In the lobby there's always a buzz of activity, so you're welcome to settle down and soak it in. The breakfast buffet is substantial and completely organic. If you need to get the board or the management team together, we have a few modern, elegant meeting rooms ready for you. We have Hans Christian Andersen and the city's new congress and cultural centre as a neighbour. And if you like a run, the banks of the river is an obvious choice.
It is easy to visit us. You can park right below the hotel and we're only a five minute walk from the train station.
Shops, cafes and restaurants are just around the corner, and all of the city's attractions are within comfortable walking distance.
Welcome to a new hotel in the heart of Odense. Welcome to Hotel Odeon.