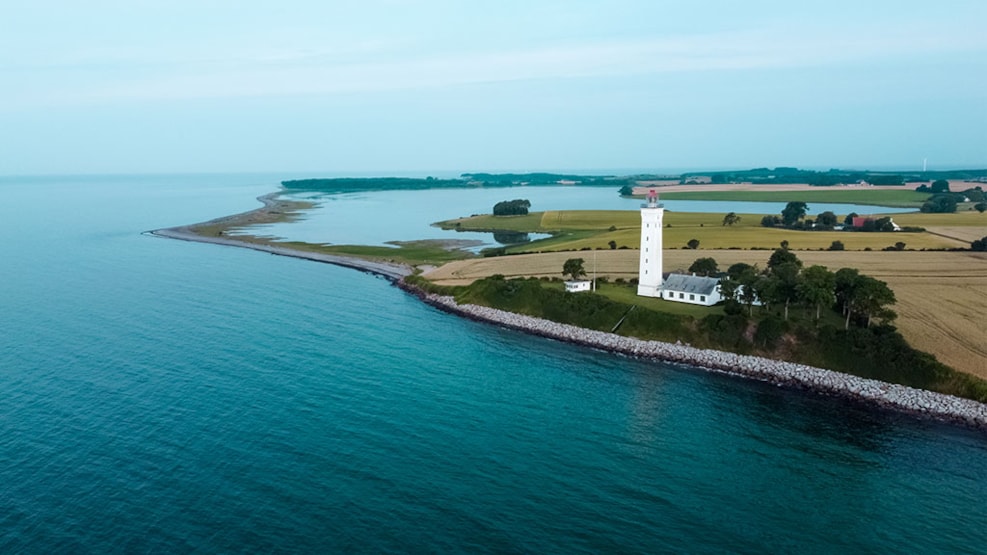 Keldsnor Lighthouse (Fyr) - South Langeland
Keldsnor lighthouse is tallest on Langeland - much the same height as the famous Rundetårn in Copenhagen's city centre. This rectangular lighthouse is 34m high and was built in 1905.
The lighthouse is still in use today, helping to guide ship traffic through the Langelands Belt. Every 20 seconds the lighthouse emits two rotating flashes of light.

The observation post at the side of the lighthouse was used during the Cold War to keep an watch on Russian ships sailing to Cuba. Today, a few kilometres from this property, you can now visit the Langelands Fort Cold War Museum and learn more about this fascinating period.

The lighthouse was built as a replacement for the earlier Fakkebjerg Light, which sat on a hilltop around 1.5km north west of Keldsnor Lighthouse (close to the site of Langelands Fort today). 

From 1885 until the time the lighthouse was finished, there was a smaller light was used as a signal on this spot. This consisted of an iron framework, up which a lantern was raised every evening.

In 1904 the tender to build Keldsnor Lighthouse was awarded to Master-carpenter R. Rasmussen from Dianalund. The total cost of the whole enterprise came to Kr 49,970.

Today the lighthouse buildings are privately owned, so one can only admire the lighthouse from a distance.