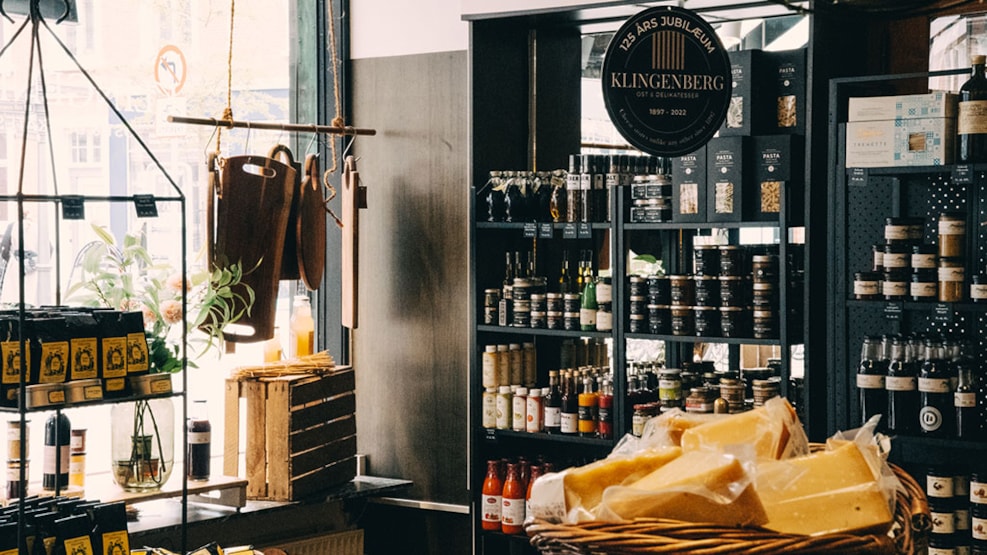 Klingenberg Cheese Odense
The story behind Klingenberg Ost
Klingenberg Ost was founded about 130 years ago by Julius Clausen in Odense under the name "Klingenberg Smør & Æggeforretning", at that time Klingenberg was an ordinary grocery store that sold a little bit of everything for the Odense household. Since then, the shop has changed shape a few times - and for the last 50 years or so, it has focused on supplying the people of Odense with a wide variety of cheeses, everything you need for the big tapas dinner, and other delicacies.
What can you find at Klingenberg?
Klingenberg offers carefully selected Danish and international cheeses, curated by their dedicated cheese experts. This includes both regular hard cheeses, soft brie cheeses, blue cheeses, cheddar - and all kinds of other cheese varieties.
In addition, you will find a large selection of other delicacies, as well as sandwiches and tapas to-go.
Where can you find Klingenberg?
You'll find Klingenberg Ost in the heart of Odense, where their charming speciality shop, located next to the wine shop H.J. Hansen, invites you in for an inspiring experience. Hansen, invites you inside for an inspiring experience. Whether you're a local Odensean or a curious tourist, Klingenberg is a must-visit for cheese fans and food enthusiasts. Dive into their expertise and explore their impressive selection of cheeses, tapas and other delicacies.
Bonus info: Klingenberg is recommended by Jonathan Kvium - one of the local guides. Find his guide to the city here