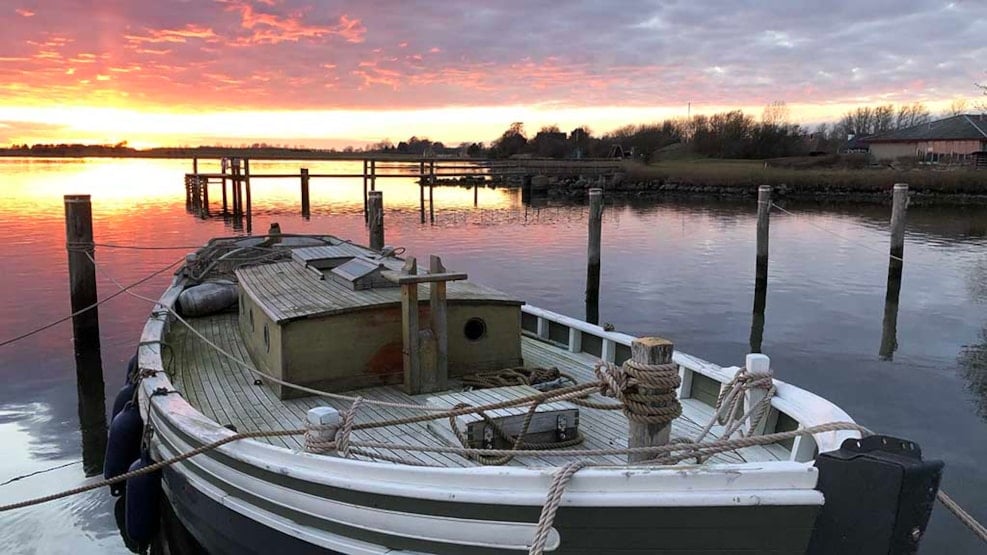 Klintebjerg Harbour
Klintebjerg Harbour was once the largest harbour in Odense Fjord - today it is a fine little marina, where you can enjoy your picnic and the most beautiful view!
Klintebjerg harbour is a small private harbour on the North Funen side of Odense Fjord. From here you have a great view of the fjord.
Vigelsø, the largest island in Odense Fjord, is located nearby, and you can sail to the island by boat from the harbour.
The harbour is managed by Klintebjerg Bådelaug.
There are picknick tables by the harbour where you can sit down and enjoy the view.
There are also shelters and a bonfire pit with a pizza oven at the harbour, as well as toilet facilities available.
The big shipping port
Klintebjerg Harbour has played a major role for freight to and from Odense. The first version of the Odense Canal came in 1804, and until then it was Klintebjerg that was the shipping port. The sailing ships then used the cliff - the large slope facing the water - to find gravel and stones for ballast as they now had no more cargo. This means there are tons of Klintebjerg around Europe!

Klintebjerg also played a major role well into the 20th century. In 1843, a three-storey warehouse was erected, and there was also a customs office, chicory distillery (chicory roots were used for coffee substitutes), vinegar brewery, and a seashell factory. Seashells mostly consist of lime, and from Klintebjerg Skalleværk, crushed seashells were sold, first for chicken coops and then for industrial purposes such as the ceramic industry in Finland. So there are also shells from Klintebjerg in 50s porcelain made in Finland!
Contact infos Klintebjerg Harbour
Moorings: klintebjergbaadelaug.dk
Ferry to Vigelsø: skibhusgaarden.dk
The Fjord houses: Facebook