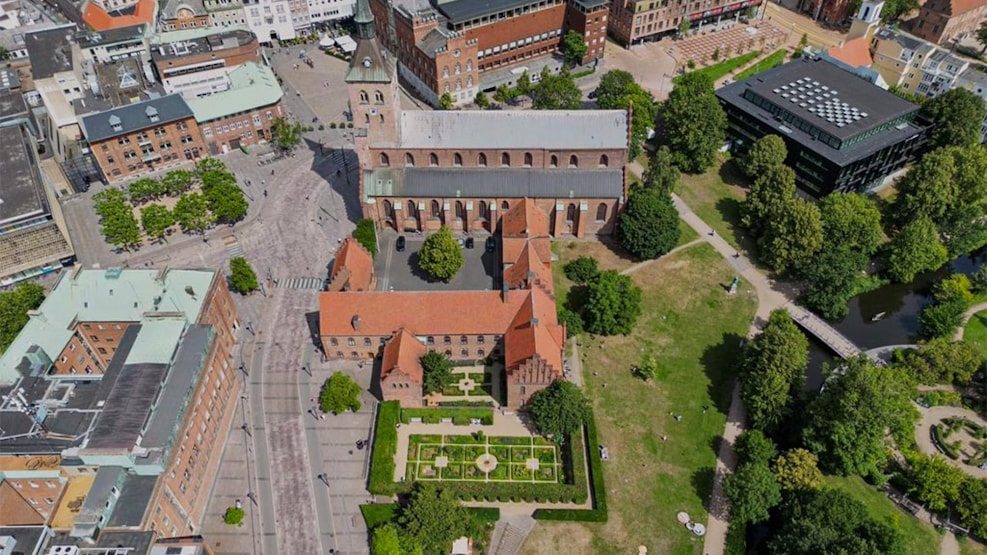 Klosterhaven - Medicinal Herbs
Just down the street from the cathedral, an old wrought iron gate shows you the way to Klosterhaven (The Monastery Garden). Many consider this to be one of the city's most beautiful gardens, created to look and feel authentic and true to its time.
Odense in the Middle Ages
In the Middle Ages, Odense was a distinctly monastic city. Six monasteries were located in a very small area, each of which has left physical traces around the city. At that time, the monasteries had fields and meadows on one side and the city on the other. Only one of the monasteries still has a medicinal herb garden today, the Klosterhaven at St Knuds Church and Monastery.
The monastery garden is founded
When the monastery complex had to be brought into harmony with its surroundings after a fire in 1913, the city of Odense decided to create a monastery garden adjacent to the buildings. The historical-botanical garden, laid out according to garden architect J.P. Andersen's plan and under the direction of municipal gardener Nebel, opened to the public in June 1922. At that time, the garden was larger, with an additional garden to the southeast and later an extension towards Eventyrhaven.
Modernisation
The grounds were last renovated in 2005, modelled by landscape architect Lise Schou. Perennials, annual and biennial herbs make up the garden's ephemeral, but also lush, changeable and flowering content. The garden's 20 beds contain 127 plants. Plant signs tell about the plant's special use, historical significance or superstition.
The garden is open all day and is free to visit.