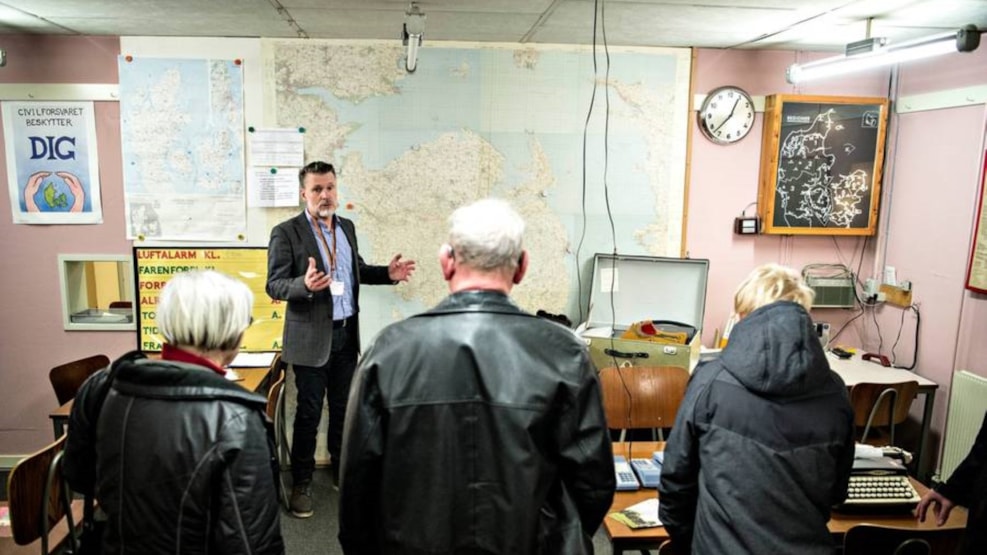 Koldkrigsbunker Kerteminde
The Cold War Bunker is a unique time warp from the Cold War - a secret underground nuclear-secured command center.
KERTEMINDE COMMAND CENTRAL: Cold War Bunker Kerteminde.
Every day since 1968, many cars and pedestrians have passed directly by without knowing that there was something secret underground here.
The command center under Byskolen was built and put into use in 1968, when the Cold War between East and West was raging. The bunker housed the management of the civil emergency in Kerteminde municipality. The presence of this facility was a preparedness secret - and therefore not something to be discussed in public. Civil defense emergency services should be able to step in at short notice in the event of, e.g. a WAPA attack on Denmark or NATO.
In the secure facility under the school, the selected specialists from the emergency services, police and municipality could coordinate the rescue and aid efforts in the municipality, so that the necessary assistance and help from the police, CF Corps, fire service, ambulances and specialists were sent out to the places in Kerteminde Municipality , where help was needed. The secret facilities could be made ready and manned within a few hours if Denmark was attacked by combat forces from the Eastern Bloc.
Kerteminde KC was part of a large secret network of command centers and other superior crisis management facilities and bunkers all over Denmark. In total, there were over 100 of them in the country, and nine of them were on Funen. Kerteminde KC is just over 200 m2 in size and is a unique historical pocket that is completely original and functional. The bunker was self-sufficient with its own emergency power supply and water supply. One could filter the air clean if Atomic-Biological-Chemical weapons were used. The bunker had a staff room, signal room, living room and toilets.
It was from this bunker that the buttons were pressed for the sirens that sounded every Wednesday at 12 in Kerteminde until 1993.
Opening hours
Spring season 2024
Saturday 6 January at 11-14

Saturday 3 February at 11-14

Saturday 2 March at 11-14

Saturday 6 April at 11-14
Summer season 2024
From 4 May to 3 August: All Saturdays at 11-14

From 3 July to 7 August: Every Wednesday at 19-21
Winter season 2024
Saturday 7 September at 11-14

Saturday 5 October at 11-14

Saturday 2 November at 11-14

Saturday 7 December at 11-14
It is possible to arrange tours for groups and schools. Contact belljps@hotmail.com
Entrance is free.
Access to the underground bunker can be a challenge for people with poor walking.