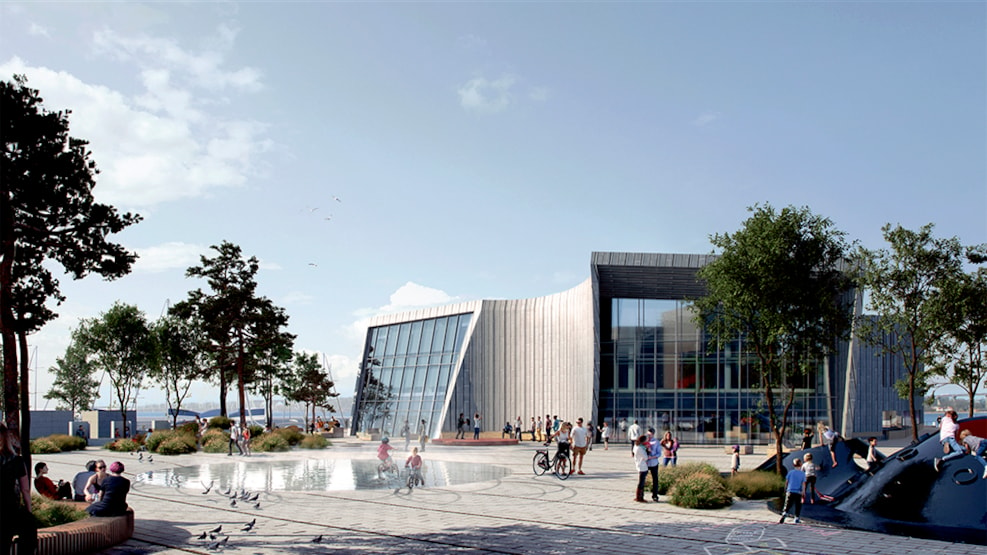 KulturØen (the island of culture), Town Hall and Middelfart Savings bank
Three of Middelfart's newer architectural buildings, which are worth a visit.
KulturØen is a multi-storey building that was built in 2005 and houses a number of the town's cultural facilities all under a single roof, including a large library, a cinema, a panoramic restaurant, a coffee bar and a tourist information centre. The building also serves as Middlefart's cultural centre. As a piece of architectural sculpture, KulturØen's design is created by its surroundings, taking inspiration from the sea and the Little Belt bridges on each side of the island. Its unusual sculptural quality brings a dynamic to the peninsula, which extends from Middelfart's waterfront. The building was designed by the renowned Schmidt Hammer Lassen company of architects and is mainly the work of architect John Lassen and head designer Lars Vejen. It is built on an artificial island and clad in pre-patinated zinc.
KulturØen's ground floor was redone in 2016 (by architect Rosan Bosch), to open up the library space. The plan for 2018 is to improve the area in front of KulturØen.
Middelfart Sparekasse built its new head office in Middelfart in 2010 in a building designed by 3xN. The bank wanted its new head office to be a natural local meeting point, and an architectural landmark for the town of Middelfart itself, not just Middelfart Sparekasse.
The building has a characteristic roof surface with 83 dormers that spectacularly emphasise the building's geometric design. The roof was specially designed with the dual aim of framing the view of the Little Belt while also providing shade against direct sunlight. This is a demonstration of the perfect synergy of form and function.
Under the roof, the central square on the ground floor houses a hardware store and a sports shop, an estate agent and the bank's own customer service functions. All levels have sunlight and unobstructed views of the water and the Little Belt Bridge.
The working environment inside has been improved through sustainable solutions in the form of natural ventilation and the latest energy-efficient temperature control technologies. The thermoactive concrete elements provide a heat savings of 30 percent and up to 85 per cent reductions for cooling and mechanical ventilation. This means a total energy saving of between 30 and 50 percent.
Nytorv (Town Hall). Middelfart's new town centre and town hall were inaugurated on 1 September 2017. The building was designed by Henning Larsen's Architects with the mission that the building must be transparent and thus welcoming to Middelfart's citizens. The new town centre is comprised of 40 homes, 3,000 m2 of retail space and a new 8000 m2 town hall with space for 440 employees.