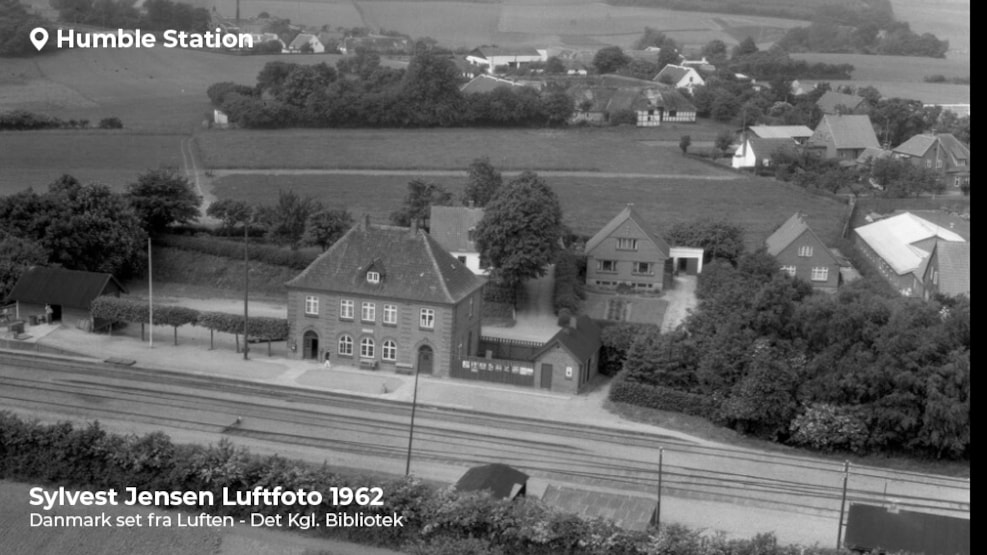 Landsbyhistorie: Humble Station
Langeland Railway was active from 1911-1962
Humble station was part of Denmark's well-developed railway network
Denmark grew smaller from 1847 towards the middle of the 20th Century, or so it seemed. During this period a complex network of railroads was constructed across the country. This made it possible to transport goods and people more quickly over greater distances.
Langeland got its first and only railway in 1911. The construction of the railway tracks began in 1909 and two sections were laid down: One east-westbound between Rudkøbing and Spodsbjerg, and one north-southbound between Rudkøbing and Bagenkop. Plans to establish a Northbound section to Lohals were never carried out.
From 1910-1911 the 13 station buildings on the Langeland railway were built. All the station buildings on the railway were designed by the architect Helge Bojsen-Møller in a simple yet decorative style. However, local craftsmen took care of the construction work itself. Humble station was built in the southern part of the town by Carl Nielsen from Kædeby and P. Rask from Humble.
The railway was opened on the 4th of October 1911. In the following 51 years, the Langeland Railway was the most important means of transportation on the island. Combined with the many ferries to and from the island, the railway brought both the Danish and the European mainland closer to Langeland. However, after World War II, the railway was in a deteriorating condition, and the increasing number of private cars made the railway redundant. In 1962 the railway closed.
After this, Humble station housed the municipal office and, later on, one of the island's asylum centres.
Source: Humble, Lindelse, Tryggelev-Fodslette Lokalhistoriske Arkiv.