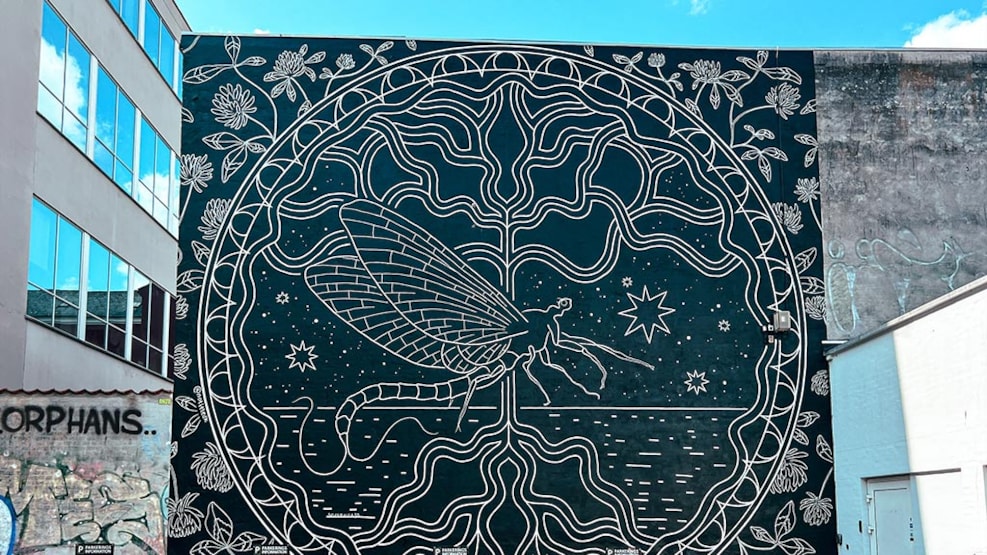 The last dream of the old oak tree
New gable painting on Kongestien
A new large gable painting has appeared on Kongestien by Brandts Klædefabrik. The painting is called "The Old Oak Tree's Last Dream" and is inspired by Hans Christian Andersen's fairy tale of the same name. Andersen's fairy tale of the same name. It is by the Danish artist No Title, who has previously painted several other large murals in Odense's urban spaces.
The motif is based on a passage in the 1858 fairy tale in which an oak tree has a conversation with a mayfly. The oak tree compares its own long life with the short life of the mayfly and insists on the sadness of the fact that the mayfly only lives for a single day. The mayfly, on the other hand, is happy for that very reason and enjoys its short and intense existence.
The artist says: "In the gable painting, the large oak tree spreads from root to crown like waves through time and space. The mayfly is magnified and made the protagonist of the story. The painting is in fine white lines on a black background as a reminder of the fleeting life we all live. In the frame of the picture are the clover flowers that the mayfly is intoxicated by in its short life."
He continues: "For me, the story contains some razor-sharp observations on what time really is and how one can view a life in very different ways. It focuses on what it means to have lived a full life. Perhaps the painting can make passers-by stop and reflect on what is important in their own lives and consider how they should be lived."
The painting was created on the artist's own initiative: "My paintings are often based on walls and gables that I find myself. This particular location was interesting to me because of the avenue of plane trees, allowing the subject to enter into dialogue with the green urban space." he says.
About the artist
No Title is a Danish artist who works with mural painting, gable painting, street art and other types of public decoration. The artist's murals can be found on walls, walls and gables in many cities in Denmark and abroad. See more of No Title's murals at: www.notitle.dk.
The artist has previously painted the mural Byens Træ at Christiansgade 20 in Odense and Byfisk: Odense River on a wall at Eventyrhaven. No Title was also chosen by Facebook to decorate the company's data centre near Odense when it was built.