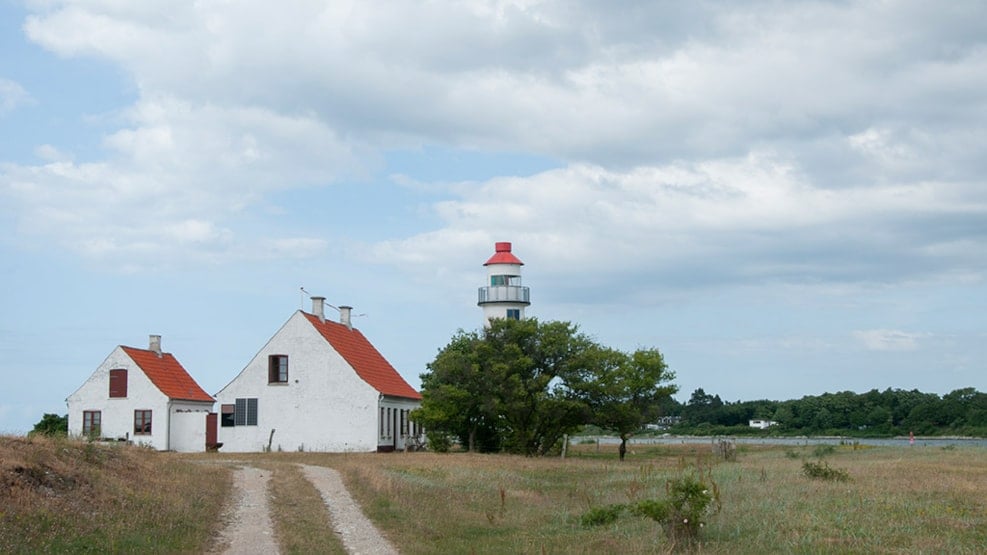 Lighthouse Enebærodde Fyr
Enebærodde Lighthouse stands with 14 white meters at the tip of Enebærodde - right by narrow strait Gabet and opposite Lodshusene on the other side of Odense Fjord.
If you go for a walk on the beautiful path to the tip of the spit Enebærodde, you get to the narrow strait "Gabet", the entrance to Odense Fjord. Here you will find a beautiful white 14-metre concrete building; it's the famous lighthouse.
Here you can see the mouth of Odense Fjord, called Gabet. On the other side of the fjord, you can see Fyns Hoved at the end of Hindsholm.
In the past, one could stand here and see the huge ships from the Lindø Shipyard when they passed the narrow watercourse that is only 500m wide.
The lighthouse was built in 1895-1896 by the Danish Lighthouse Service. Before that, there had been other, smaller lighthouses. In 1869, the municipality of Odense set up a so-called firm lighthouse, which since 1881 was changed to one with a different beacon.
When the Lighthouse Service took over in 1895, a lens device was installed in the new lighthouse. Later in 1926, a Blaugas burner was installed. Today the lighthouse is powered by electricity.
The present lighthouse initially had an outside staircase, it is now replaced by an interior.
On the other side of Gabet at Lodshuse, there are a couple of so-called leading lights in addition to the lighthouse on Enebærodde.
There is no access to the lighthouse.
Next to the lighthouse is the old lightkeeper's house, which was inhabited until 1960, and today is a privately owned holiday home.