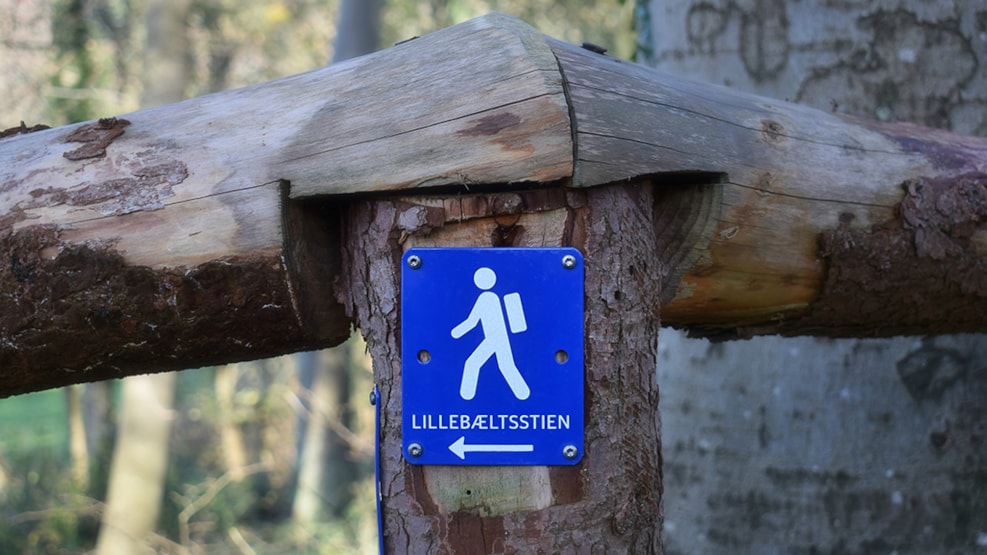 The Lillebælt Trail 27 km
Denmark's most scenic walk that will take you along beaches, coastal hillsides, urban environments, open fields and woodland, on gravel paths and bike trails to unpaved paths in virgin forest and along the coast.
Follow the Little Belt's active and fascinating waters around the Funen coastline
The Little Belt Trail is a scenic walk along the western coast of Funen. The route starts in northern Strib (GPS 55.54233024499607, 9.777433364325399) and ends south of Gamborg (GPS 55.463644696307504, 9.798850635243125) so it is an end-to-end route. Along the way, hikers will be able to experience the Strib Fyr lighthouse, the old harbour in Middelfart, the Hindsgavl Peninsula and the beautiful trail from Skrillinge to Gamborg.
You'll discover many small, tranquil stops and vantage points along the way, where you can enjoy a rest and your packed lunch. If your legs are completely exhausted from all that walking, Hindsgavl has places to eat that are never far from the trail, and local campsites will be pleased to provide cabins and grass plots if you need to lie down and relax.
The trail has been established in accordance with the LQT standard (Leading Quality Trails - Best of Europe) and will seek LQT certification when its length reaches at least 50 km.
Along the way you can follow the blue "white hiker" signs, which have been set up along the entire trail. Please note that the owners of land that is traversed by the trail may sometimes close access to the trail during hunts or when hazardous work is being done.
In case the weather is nice enough for a swim, access to the private beaches is allowed, provided that your stay does not exceed one day, you remain at a distance of at least 50 metres from holiday cottages and you do not use the private jetties.
Landowners, like everyone else in Middelfart, value that you take care of the nature in the area and ask that you:
• Stick to the 2-metre wide designated path
• Keep your dog on a lead
• Take your rubbish away with you to deposit in a rubbish bin
• Take care of the flora and fauna
Planning your hike:
Here is some inspiration for your trek

For an advance overview of your trip, click on the interactive Map of the Little Belt Trail
You can also pick up a folder at KulturØen (Havnegade 6, 5500 Middelfart), at camping sites and other places you might be staying overnight, or download it from here.
Transport
Rejseplanen
Bus: Gamborg/Strib to Middelfart - you will find it on the Journey Planner 
Train: Kauslunde Station
Enjoy your trip!