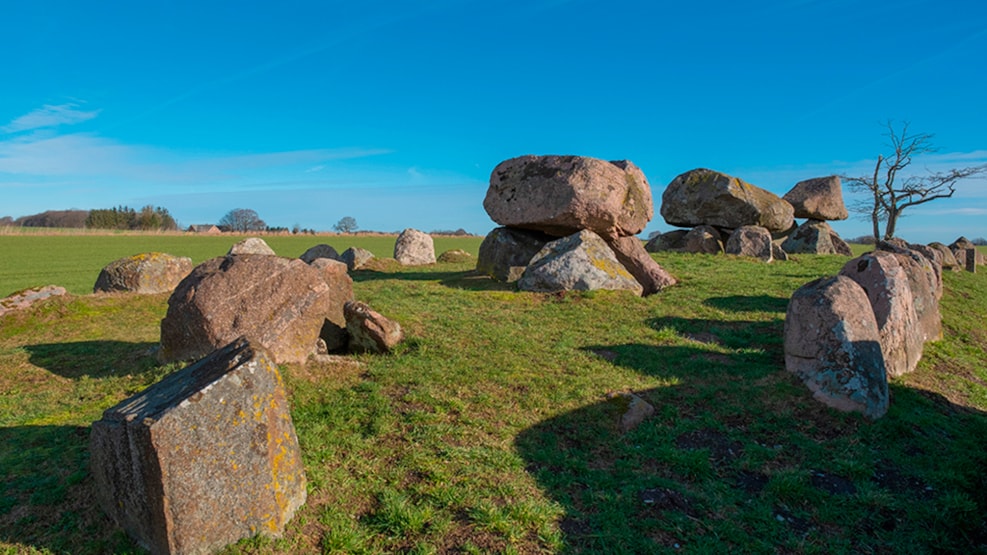 The long barrows at Lindeskov (3,1 km)
You can feel the history of the place as you step into the forest clearing. The giant stones testify to an honourable final journey – perhaps for an important local landowner or chief. Not far from here, you will find Denmark's oldest preserved long barrow.
Hestehave Skov wood and the area around it contain a great many prehistoric relics from the Neolithic Age (about 3500 BC). The settlements were most likely situated by the lake, while the burial mounds were set a little further back. Feel a sense of history as you wander around the ancient prehistoric site, following the well-kept grassy paths through the woods, and picture life as it was back then. A track leads to Denmark's oldest-preserved long barrow, measuring 168 m and originally surrounded by 126 edge stones. Approximately 200 metres further along the track, a path leads westwards through the edge of the woods to a burial site from the Iron Age, which is not visible in the landscape. Here, you will find a slab cist in a mound, two long barrows and a round barrow. A little further along the path are the remains of an execution site, where the criminals of that day met their end. Information boards at the site explain about excavations and burial customs.
There is a car park a couple of hundred metres from the main road – just after the property.