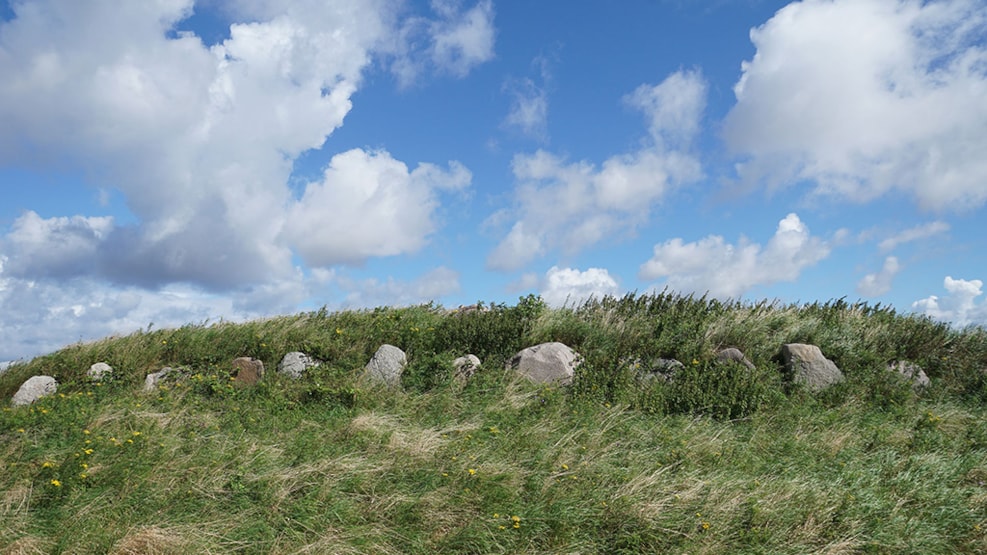 Long dolmen at Ormstrup
Nice long dolmen - there is no access to the place.
This long dolmen by Ormstrup is built on a small hill and is thus clearly visible in the landscape, but the Stone Age people who built it were not satisfied with it. Therefore, they dug the soil layer away in a 7 meter wide belt around the dolmen, so that it really appears as a monument. We know this because in 1957 Langelands Museum excavated the entire long dolmen with hay.
The excavation revealed that the mound is built up of a first core layer of many stones and on top of the stone packing a layer of turf and soil. The lower stone packing has apparently not gone all the way to the curb stones, but left a free space along the inside of the curb stones. This has led archaeologists to suggest that in a first phase the dolmen only had the lower rock layer, and that it was only later covered by peat and soil. After the excavation, the long dolmen was restored with high filling all the way to the row of curb stones.
During the excavation, objects from the last part of the Stone Age were found in the chamber and on a stone mound, during the stone mound there were pottery fragments from the time when the dolmen was built, around 3,100 BC. In addition, an urn from the Late Bronze Age was found located in the mound outside the chamber. In the urn there were burnt bone remains. We know that in the Bronze Age, there has been activity in the area, because further down the road you can find several Bronze Age mounds. The dolmen is a kind of new - it was first located in 1950 by Hakon Berg from Langelands Museum.
(Source: "Fortidsminder på Langeland", Langelands Museum)