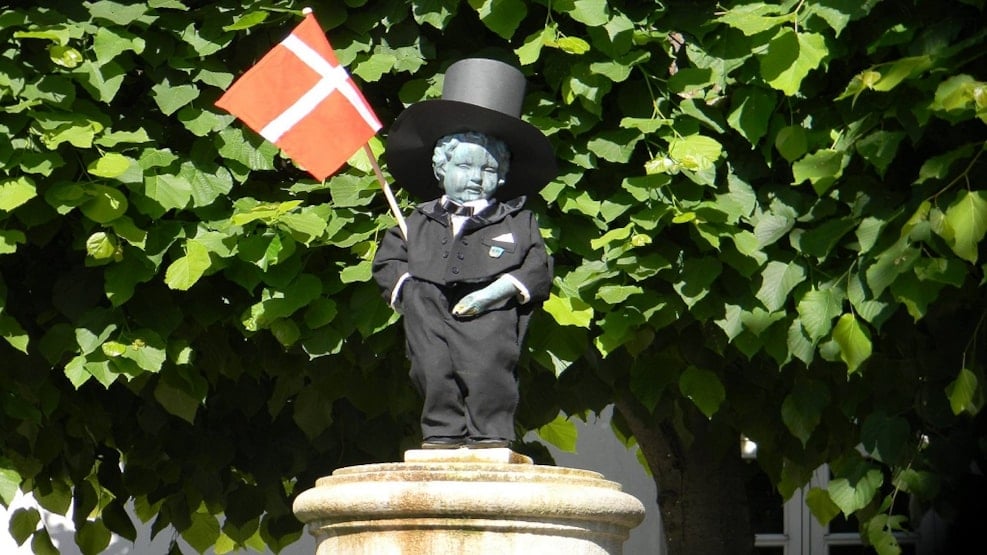 Manneken Pis, Bogense
Little Manneken is not only in Brussels, you'll also find him on Adelgade in Bogense!
The Manneken Pis in Bogense is a copy of the Jerome du Quesnoy (1619) sculpture in Brussels.

The legend says that in the 19th century, a baby was found on the ferry from Klakring. The chief officer held up the baby in order to find the parents. The parents did not show up, instead the lokal butcher Levinsohn took care of the baby and later on adopted the boy. This boy grew up in Bogense and became Consul Willum Foenss, a title he was honoured with after some years abroad. As he grew old, he felt a great dept of gratitude to his town, and donated the statue of Manneken Pis to honour the townspeople. He felt the boy's story resembled his own.
The story is not entirely true - in reality, the little boy was the grandson of the butcher. His mother got pregnant out of wedlock, and the baby was sent to live with his grandparents. But unlike some of the so-called bastards whose parents weren't married, he still had a happy childhood and became a successful businessman and a Consul. So he donated the Manneken Pis figure as well as a sun dial and a fountain with a gold apple to the town.
 
On March 20th 1934, his daughter, the Baroness Rosenkrantz, unveiled the little statue of Manneken.
Back then, many people would have liked to see the little boy covered up. But today the Manneken Pis in Bogense is one of the most popular attractions in Bogense.
On special occasions, the Manneken Pis is dressed up.