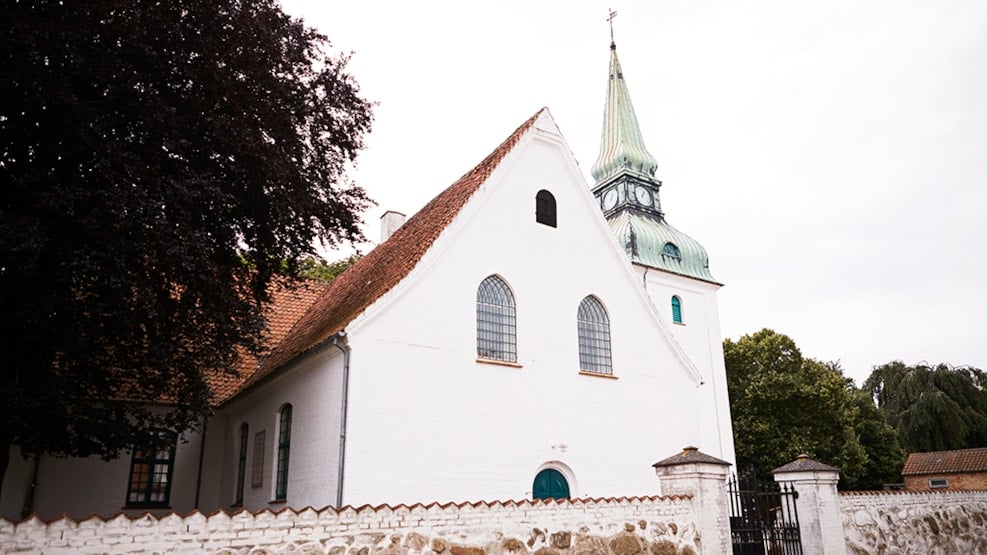 Marstal Church
Seven votive ships bear witness to the attachment of the town to the sea and the maritime development from the "yacht" of the 18th century to the coaster of our time.
Marstal Church dates back to 1738. Before that time, people went to Rise Church.

The church was enlarged by a transept in 1772 and by a steeple in 1920, erected on the occasion of the reunion of North Slesvig with Denmark. 

The medieval baptismal font was erected in 1870 and originates from Tranderup Church and replaced a movable font on a wooden tripod. The blue benches are a symbol of the sea and eternity, whereas the red colour on altar and pulpit are suggestive of Christ's Blood and Coat - and is also the colour of love.

The triptych was painted by the maritime and Greenland painter Carl Rasmussen in 1881 and depicts Christ calming the storm on the Lake of Genezareth.

In the churchyard that is now abolished are old headstones and a memorial tablet for Marstal mariners who died during the two World Wars. For lack of space, the churchyard was moved outside the town in 1896.

The church has a Frobenius organ from 1973, expanded in 1995 to a total of 16 stops.
Thanks to a donation in 2012 from the A. P. Møller Foundation an extension of the carillon from 14 to 48 bells was made possible.
All Ærø's churches (except Ommel) are open all year at 8.00-16.00, except when church acts take place.