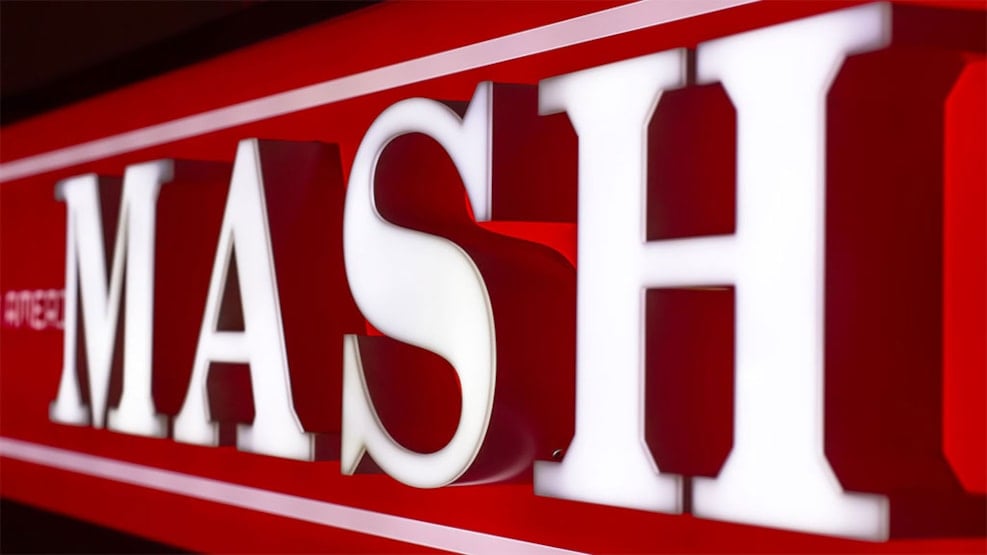 MASH - Modern American Steak House
MASH in Odense is where you go to eat the best steak in town. The restaurant focuses on top-class service and a taste experience beyond the ordinary.
About MASH
If you are looking for a place in Odense to eat the best steak you can get on Funen, then MASH is the place for you. MASH has a strong love for great food and great service. MASH currently has two restaurants in Germany and eight in Denmark, one of which is in Odense. At MASH they respect the ingredients, so you are guaranteed both great service and a top-class taste experience.
The surroundings
MASH in Odense is located in the most stunning location: Vestergade by the historic buildings on Flakhaven. As well as being in the adventurous city centre that is Flakhaven, the restaurant is located in the old brewery building. All this contributes to the special, warm, and New Yorker-like atmosphere you find at MASH in Odense. The restaurant seats 110 diners, with the cellar just below where wines are retrieved from their own wine cellar.
Menu at MASH
At MASH in Odense you can get various starters, main courses, desserts, and many different kinds of wines. For starters, you can get everything from grilled carpaccio to risotto with new peas to gillardeau oysters, and much more. For your main course, you can choose from a variety of steaks from Denmark, Japan, New Zealand, America, Uruguay and Canada. For dessert, there is cheesecake or nine different kinds of ice cream, and you can also get a variety of after-dinner cocktails. In addition to their fantastic menu and delicious cocktails, you can also get their own specially brewed MASH lager and much more light refreshments. 
Private Dining Rooms and Company
In addition to the atmospheric restaurant, MASH in Odense can also offer Private Dining rooms. Here you will find cozy surroundings with a view of the atmospheric wine cellar. At MASH you can also hold a larger party of up to 230 people. The menu for parties offers exquisite steaks, sides, appetizers, desserts, and various wines of the many that MASH offers.