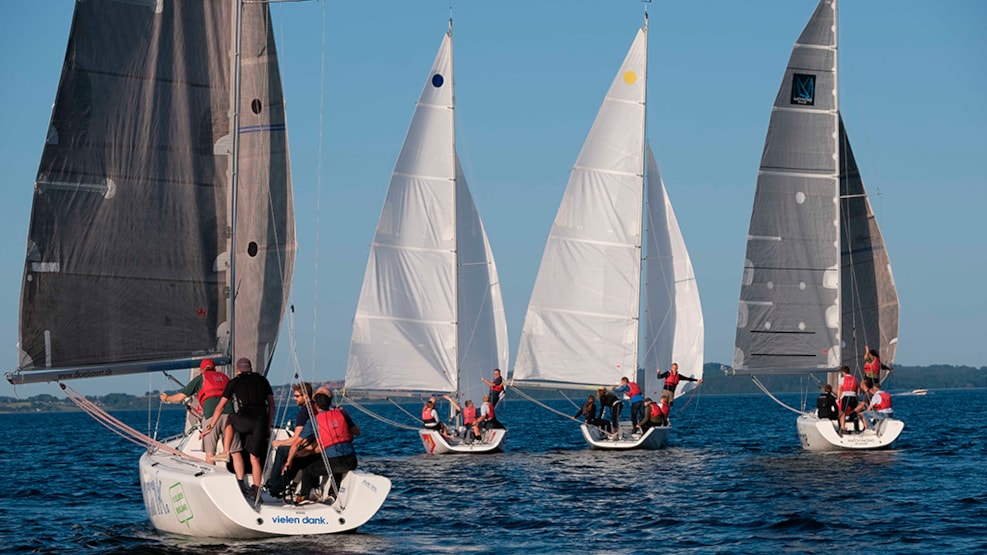 Match Racing Denmark
DS Matchracer boats are sailboats with fantastic sailing capability. They are fast, nimble, exciting, and challenging and ideal for both beginners and experienced sailors alike - and they are very safe. We focus on team spirit, communication and teamwork. With this fantastic boat, we are sure that you have the right tool for an educational, inspirational, exciting and fun day.
Getting the maximum out of the boat's sailing ability is a challenging exercise with many contributing factors. Success depends on: the make-up of the team, individual skills, ability to communicate individually
and as a team, ability to take responsibility for their tasks onboard, competition from the other boats, weather wind and currents. Many relevant situations that can also be applied in a business/marketing situation. It is a fantastic and very real experience.
The result depends on your ability to learn from your successes as well as your mistakes.
The goal for all the events that Match Racing Denmark organise, is to challenge the participants into become better at both sailing, teamwork and ensure that you return home positive and fully invigorated.

Meeting Point
Middelfart Marina. We also sail from many places in Denmark. Call us to hear more
Duration
4-8 hours
Gruop size
6-184 pers.
Team Size
3-6 pers.
Price
4 hours: 6 pers. DKK 1.450 /pers.
6 hours: 6 pers. DKK 1.950 /pers.
8 hours: 6 pers. DKK 2.450 /pers.
Date and times:
We sail the whole year round providing that conditions allow, which is to say 99% of the time. Most choose to sail from Easter to October, but special offers are available if you want to sail from October to Easter. If required catering, prizes, photos etc. can be arranged for all match race events