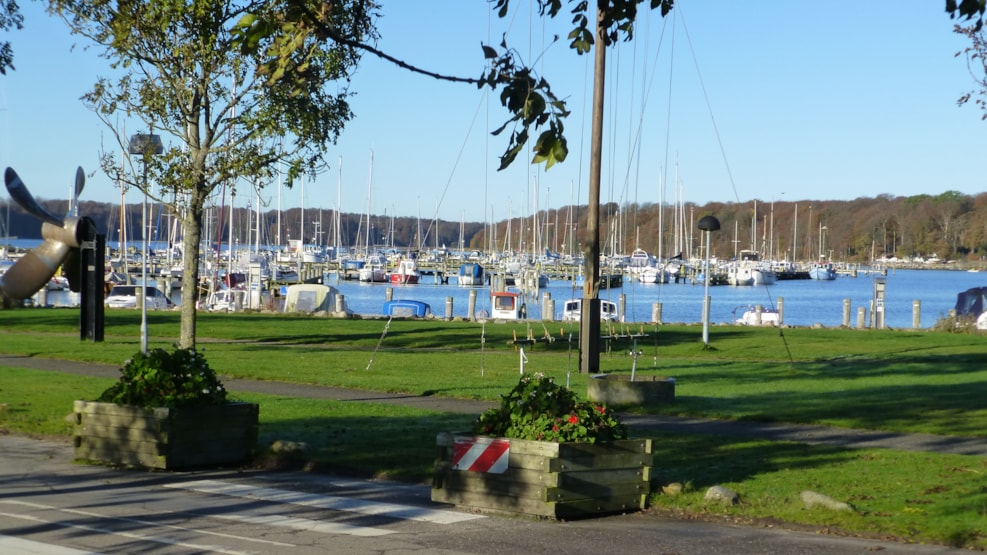 Middelfart Marina - 7,6 km
The trip from KulturØen to Middelfart Marina follows the red clover path. Along the way you gain insight into Middelfart's recent history including industry and residential suburbs. The iron foundry J. Hess & Søn was located in Jernbanegade until 1977, when it was replaced by a supermarket. The iron foundry, which manufactured cast iron stoves, was one of the town's leading businesses. At Middelfart Marina you can practise different types of water sports during summer, for example stand-up paddling, windsurfing, snorkelling and match racing. The marina also hosts international yacht races. Bring your bathers and go for a dip at the marina or continue to Skrillinge beach.
In 1969, plans were adopted for the suburb now known as Ø-kvarteret, which boasts green areas and a well-established network of paths. Close to Ø-kvarteret and Middelfart Marina is the Little Belt golf club with 18 holes, a 9-hole Pay and Play and a par-3 course.
Bitumen and dirt roads.
Under "Links" at the bottom of the page you will find a link to the route in Naviki. Here you can register as a user, after which you can enter the route and save it under "my routes". Then you can download the Naviki app and open up and find the route under "my routes" to follow the route. If you need GPX files for GPS, follow the link to the route map and download it from there.
Sights
Accommodation
Hotels:
Comwell kongebrogaarden
Sinatur Hotel Sixtus
Hotel Park
Comwell Middelfart
Severin Hotel
Hotel Borgmestergården
Bed & breakfast: