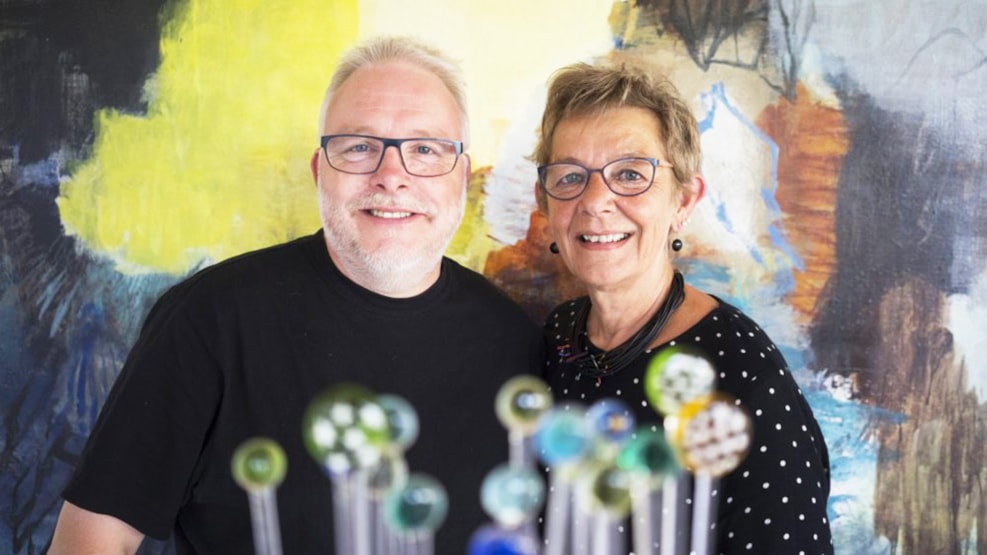 Nielsen & Wöldike - Glassmakers
Nielsen and Wöldike produce colourful and organically shaped glass art and applied artworks in glass
Applied - and unique art in glass
Preben Nielsen and Mette Wöldike design and produce unique articles of applied art and jewellery in glass. Their style is simple, colourful and imaginative. They find inspiration from graphic patterns and by using layer-on-layer and cold glass techniques they can create new patterns, colours and structures in their works.
Biography
Mette and Preben have worked with glass for more than 20 years, and before starting Nowhuset, they ran a shop at the stately home of Valdemars Slot on Tåsinge.
For the last 10 years their work has concentrated on developing their glass art, together with their shop and art gallery, with its varied exhibitions, in Nowhuset. For several years they have held courses on which glass artists from all over the country have come to learn from their approach to quality and their technical skills.
Visit Nielsen and Wöldike
In addition to their workshop the couple run a workshop and gallery under the name Nowhuset from an address in Tullebølle.