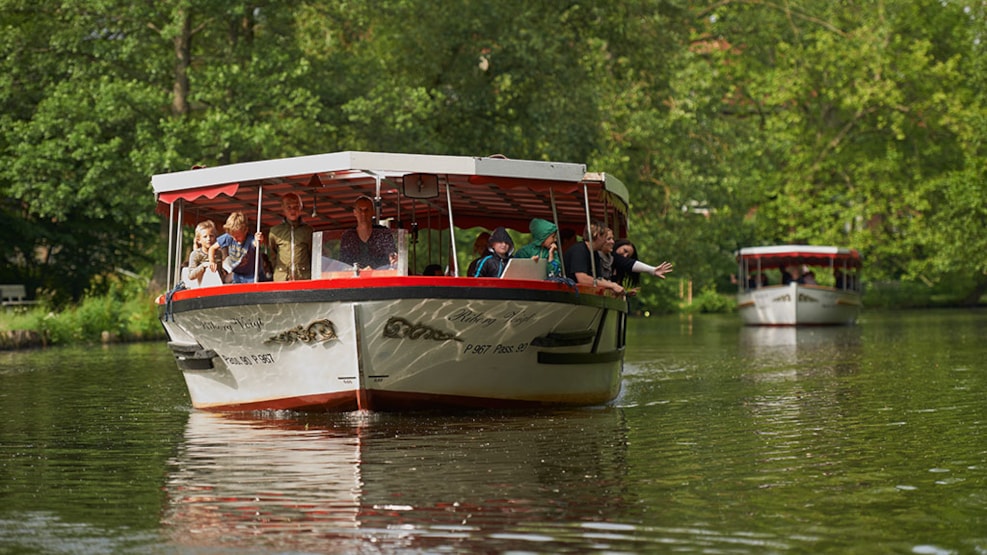 Odense Aafart, River Cruise
Enjoy a beautiful boat trip surrounded by beautiful nature on Odense River. The tour starts at Munke Mose in the centre of Odense, sails out past Odense ZOO and on to Erik Bøghs Sti just before the Forest Lake and The Funen Village.
It is possible to disembark at Odense ZOO on the way out, but not on the way back due to the currents. If you choose to start your trip from Odense ZOO or in Fruens Bøge, you can just buy a ticket when you reach the kiosk in Munke Mose.
From the stop at Erik Bøgs Sti, there is an approx. 15 minutes walk to The Funen Village.
Unique event experiences are also available that are subject to booking, such as Hans Christian Andersen storytelling with role-playing characters to facilitate the story during peak season, a children's treasure hunt, various wine, champagne and food tastings, among other one of a kind events.
As something new in 2023, the tour boats have been converted to run on solar energy - this promotes the environment and reduces noise in the area around Odense River - the tour boats are now completely silent.
Practical information:
The entire trip lasts approx. 1 hour - Or around 30 minutes each way.
Tickets can be purchased online or at the kiosk in Munke Mose.
The ticket is a return ticket and applies throughout the day.
Standard wheelchairs can be included for free.
Prams and pushchairs cost a children's ticket.
For further details, please visit www.aafart.dk