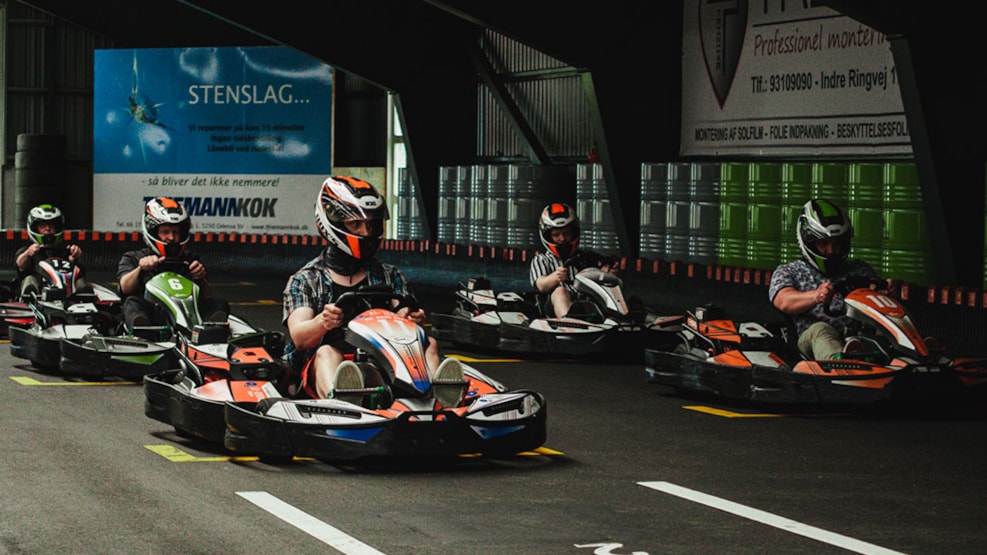 Odense Gokart Center
At Odense Gokart Hal, we have put a lot of effort into transferring ideas directly from the professional go-kart world to you, our customers, to give you the ultimate go-kart experience! We can do this because the man behind Odense Gokart Hal is the former racing driver, Michael Schröter, who has driven Gokart, DTC & Formula Renault.
Odense Gokart Hal provides challenging events, perfect to develope team spirit. And fun experiences are exactly what we specialize in. We take care of the setting, tiptop facilities and a professional staff that will help you all the way, even if it's your first time trying your hand at go-karting. 
Go-karting is for the whole family, young and old, and in Odense Gokart Hal, it is possible to drive our Sodi junior karts from the age of 7. So if you are looking for a fun and action-packed activity, Odense Gokart Hal is a good choice.
We will host any event and gladly tailor an exciting day just for you, whether for family, workplace or a group of friends. Our solutions are based on many years of experience in organising events with 2 to 100 participants. We will be happy to help you find the right solution to suit you. 
HOW TO FIND US? 
You will find Odense Gokat Hal at Cikorievej 32 in Odense SØ, which is only 12 minutes by car from the city center. We have a large parking lot with free parking during your event. Do you want to travel by public transport? We are close to the newly built light rail and several different bus stops on Nyborgvej, so you have several options to and from the gokarthallen. 
If you want to read more about Odense Gokart Hal, or see our large selection of different types of races, you can do so on our website, just click this link: https://odensegokart.dk/loebstyper/