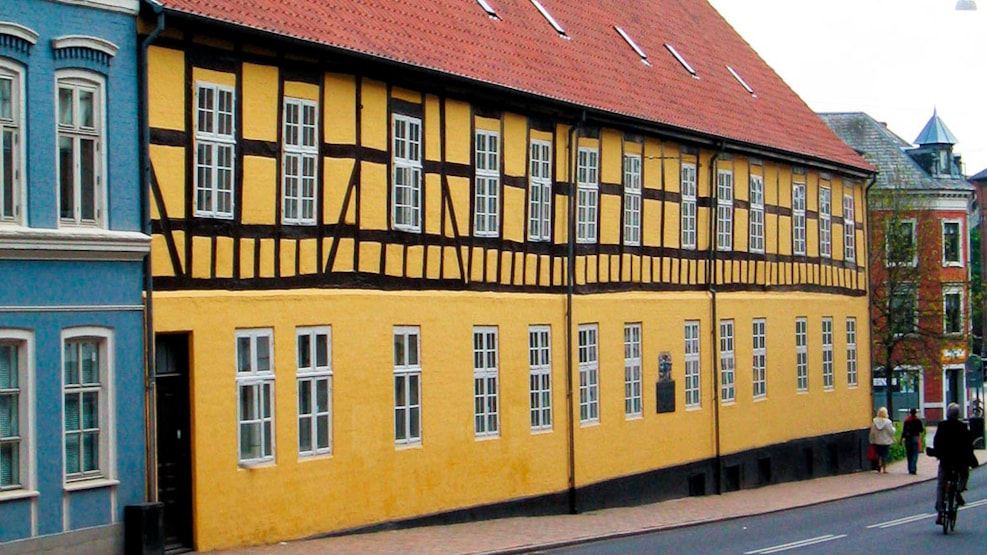 Odense Prison - historical building
Tugthuset - or Odense Tugt- og Manufakturhus - is located in Klaregade right in the middle of Odense. The building was erected in 1752 as a penal and forced labour institution for criminals and poor people from Odense and Funen. The poor house in Odense was not the only one. At the same time, King Frederik V built reformatories in Stege, Viborg and Copenhagen to imprison the poor and outcasts so that they could work for a living.
Odense Tugthus and H.C. Andersen
The Tugthus is not far from H.C. Andersen's childhood home, and it made a big impression on him. His grandmother married a prison inmate, and Andersen himself visited the building, though only as a guest. His parents knew the porter and the whole family had been to parties in Odense Tugthus - called O.T. - where the inmates acted as waiters at the table. Little Andersen was so afraid of the dangerous criminals that he couldn't eat anything at all and later wrote the novel O.T. in which he describes the cruel asylum.
The poor people of Odense in the 16th-17th centuries
Although it has fluctuated a lot, in recent times there have always been poor people in our society both in the countryside and particularly in the cities. Between a third and a quarter of the population has sometimes been dependent on help from others, fluctuating with the local economy. Historically family, neighbours, guilds and so on have taken on the task, but this was not always enough.
In Odense, a census was carried out in 1672 categorising 650 people as poor, i.e. too old or ill to work - but this was far from the full truth. Many others had only odd jobs and could only afford the bare necessities. Including them, the census suggests that up to 40% of Odense's inhabitants lived in poverty.
For the poor there were few opportunities, and hunger was a daily threat. There was no guarantee of a roof over their heads, and charity was the only thing that kept their lives together.
At Møntergården, you can discover more about the city's poor in the exhibition "Fyn - in the middle of the world" and visit the exhibition in the small poorhouse "Pernille Lykkes Boder" from 1617.