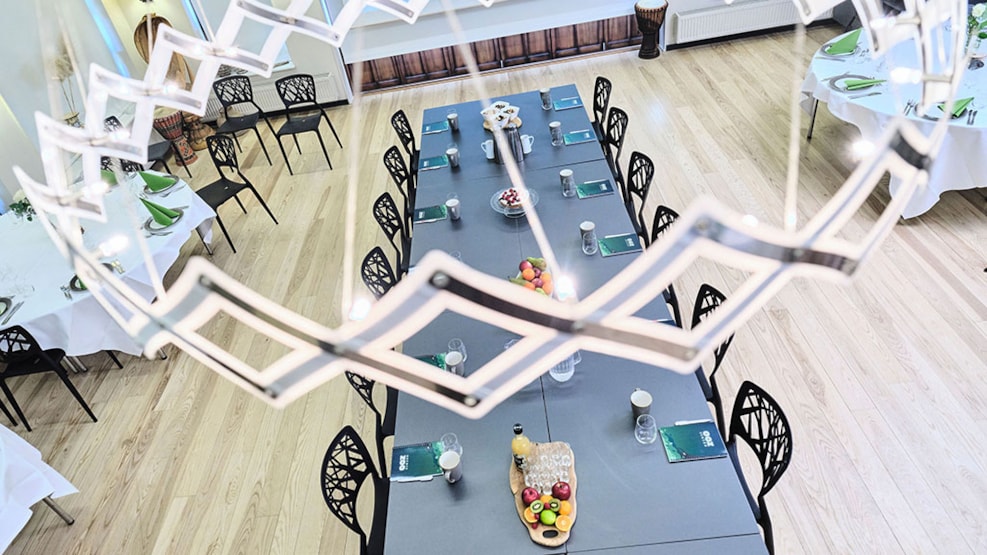 Odense ZOO - Meeting Place
In the ZOO's authentic Safari Lounge you can book either the Lion or Giraffe room. Here you have a direct view of the savannah, with a close-up view of wild animals such as lions, giraffes and zebras. You will undoubtedly have an experience beyond the ordinary. Also, enjoy the opportunity for a break on the porch with the garden's best view of the lions.
Hold your meeting in Odense ZOO and have a meeting day that you will not soon forget. In our three different rooms with AV equipment, you will be able to enjoy the view of lions, zebras, kangaroos, giraffes etc. When it's time to stretch your legs, take a break on the large veranda or explore the garden and the wildlife.
Do you want a different start to the day, or would you like to leave the house for a few hours? A half-day meeting is arranged according to your wishes for the starting time.
Do you need a break during your meeting, where you can stretch your legs, get some fresh air and experience the garden? Let us arrange a tour for you, where a guide takes you behind the scenes - very close to the animals! The tour can last one to two hours depending on your needs.
Throw your team into wild challenges that strengthen your unity, test your limits and make you better at communicating. At a team-building event in Odense ZOO, you get a fun and educational experience in the wildest surroundings in the city. You can try everything from dissecting rats and guessing shit to playing word games with balls that must first be fished out of our terrariums with snakes and other reptiles and crawling. We tailor the day exactly to your wishes and needs, whether your focus should be on fun, socializing, communication or something completely different. In addition to your team building, you also get a guided tour of the garden's many wild and fascinating animals.
This kind of team building is for a minimum of 8 people and lasts from 2 hours and up.