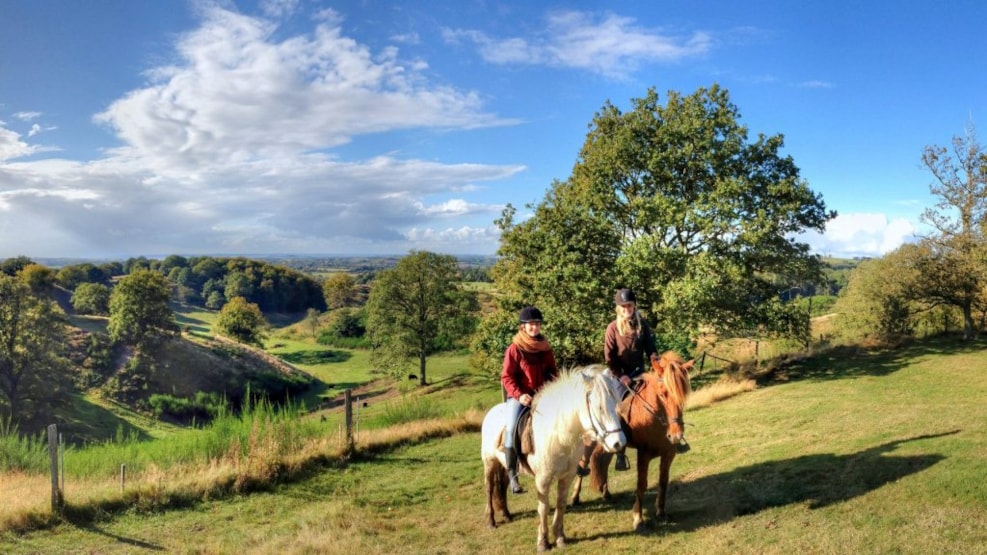 Østrup Turridning - riding
Ostrup Turridning offers rides on good Icelandic horses in stunningly beautiful countryside.

Ostrup is located 12 km north of Faaborg in the back of the ridge, which is called "The Alps of Funen". In this area you`ll find forests, beaches and open country. The terrain is very hilly, and here are several of the island's highest points for example Trebjerg and Lerbjerg. The largest lake on Funen, Arreskov lake from which the Odense River starts, is situated nearby as well as the island's largest forest areas. 

Svanninge Hills, which is the Alps' official name, has a very beautiful and unique nature. From the many hilltops you have an amazing view over the sea, Helnaes Bay and the Funen Archipelago. There can be arranged shorter trips, one day trips, weekend trips and riding vacations. Anyone can join. You will of course have thorough instructions before starting and tempo and breaks are organized according to the participants' wishes and requirements.

We have horses for beginners, for children and for those who want more challenges. All of our horses are friendly, trusts people, and above all it is good tölters that like going forward. We take only a limited number of customers in, so if you want to ensure a certain date, you should book well in advance.

Hay hotel
Østrup turridning is placed beautifully in the scenic surroundings close to Østrupgaard manor. We offer hay hotel for horses and B&B for riders who prefer to ride their own horses in the beautiful landscapes of South Funen.
There are plenty of opportunities for you to participate, with your own horses, in the tours that we arrange, though your horse needs to be in good shape. Horseback riding in the most parts of area requires riding certificate that is necessary to purchase and likewise, the rules for riding in the terrain must be strictly followed.

Pricelist:
Paddock: 50DKK
B&B per person incl. linen/bed sheets and 250DKK
Lunch box: 50DKK
Transportation of persons and luggage: By agreement.