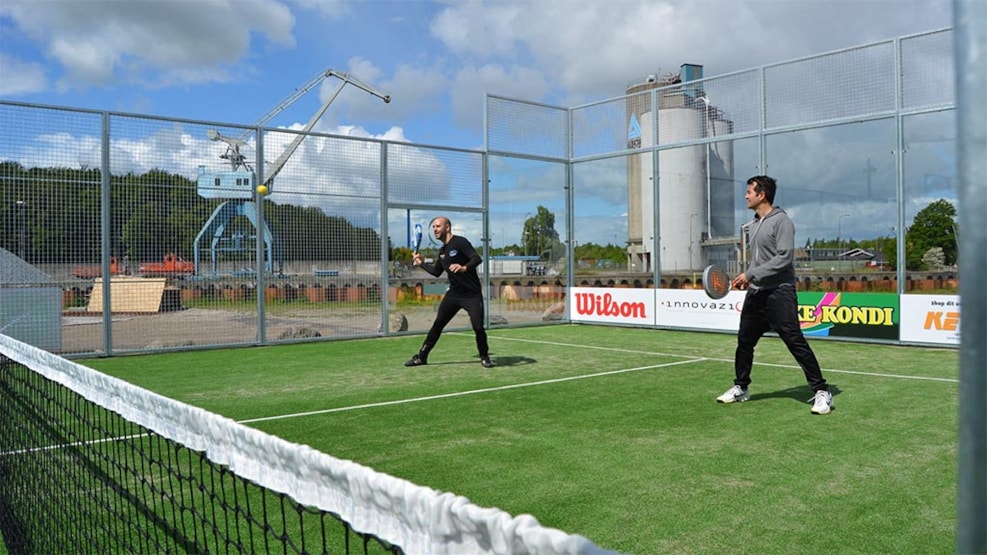 Padelsport on Odense Harbour
Spend your holiday actively, bring the whole family or friends down to try the new sport of padel at Byens Ø in Odense. You will find the glass cage (padel court) at the end of Byens Ø on the side facing Tysklandskaj.
Padel as a sport is currently growing in popularity all over the world. A few years ago, few people had heard of the sport in Denmark, but today new courts are popping up all the time. Padel is a mixture of tennis and squash, played on an enclosed glass court with a bat and a ball that looks like a tennis ball but is slightly smaller and not as firm. It's easy and fun right from the start, and the sport is suited to everyone, even people in wheelchairs. 
After your booking, you will receive a code by email and text that you can use to lock yourself into the court. The bat and balls are in a box on the court. (please put everything back after use and close the doors)
Online booking is available on the website.
At Byens Ø you will also find other points of interest, like:
Restaurant Nordatlanten, serving Scandinavian specialities,
the new circus Dynamo where you can experience juggling and acrobatics,
Fodboldfabrikken where you can play indoor football almost around the clock
GoBoat, where you can hire a boat for a sailing trip in Odense Harbour as well as have a good cup of coffee in their café.