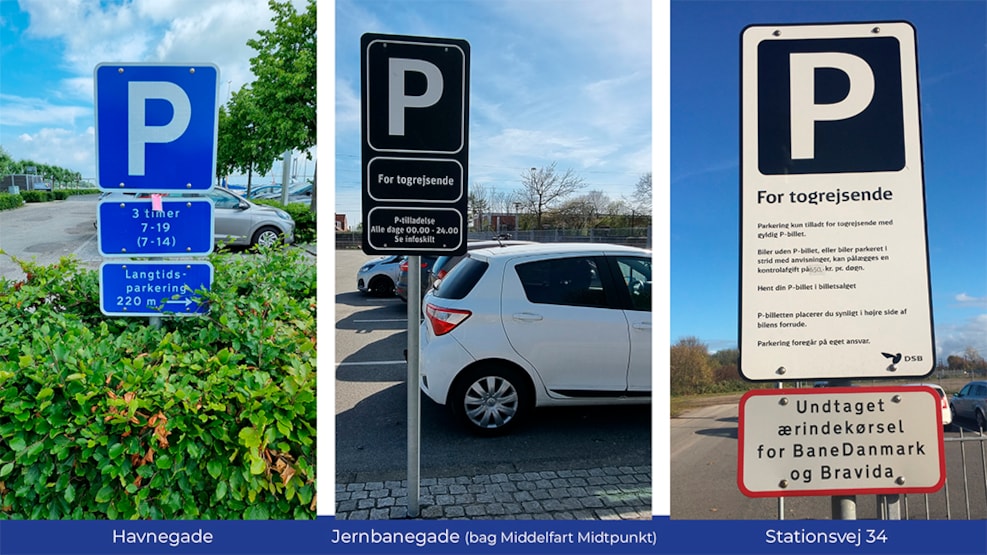 Parkering by Middelfart Station
There are various parking options at Middelfart Station.
Free long-term parking.
The free long-term parking is only for people with a DSB train ticket, and you have to 'buy' the parking ticket at the same time as the train ticket from the DSB ticket machine in the station lobby. Once you have selected your train ticket and before you pay, click on the blue "P" sign at the bottom of the screen and purchase parking for DKK 0.  Then pay for the ticket and the parking ticket will be printed with your train ticket. Remember to display the parking ticket in your car's windscreen.
You will find the DSB parking area at the end of Middelfart Midpoint car park. It is clearly marked with fences and signs.
There are approx. 15 parking spaces on the little road up to Banegaarden (Bjergbanksvej) - entrance from Brovejen.
3- and 4-hour free parking
3-hour free parking is available at Middelfart Midtpunkt, just before the DSB long-term parking area, as well as 4-hour free parking at Stationsvej 34. Remember to set the P-disc (parking disc in the windscreen).
Paid parking
The car park at Middelfart Midpunkt also has a section with paid parking.