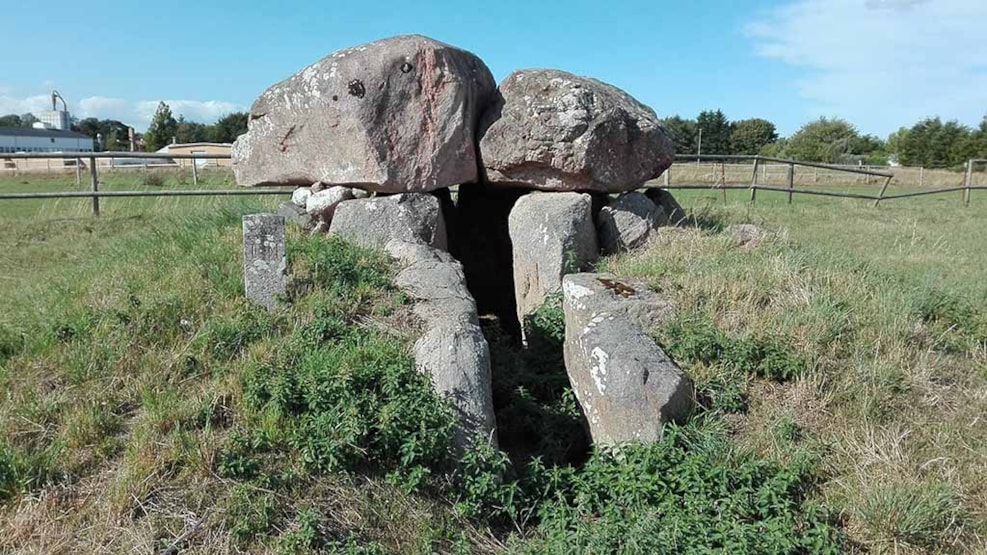 The passage grave in Skamby
Is this where the giants live? At least that was thought in the past, but today you can visit the old burial chamber without fear of getting eaten.
On the fields behind the farms and the houses in Skamby, you'll find a nice little passage grave and a round barrow with an interior chamber. Skeletal remains and various antiquities, including a battle ax, have been found in the passage grave. The chamber is built of 9 side stones and is 3.10 m long, 1.75 m wide, with 2 cap stones. The hallway faces southeast and is 3.45 m long; it has 3 side stones for one and two for the other side.

There are 15-20 cup and ring marks on one cap stone, perhaps symbols of fertility or the sun.
DIRECTIONS:
From the "main street" Bredgade in Skamby, you drive 300 meters off Brøndstrupvej. Between Brøndstrupvej 57 and 59, there is a gate in the fence which says "STI" (it means trail). Behind it, a grass trail passes over the fields to the site.

Be prepared for slightly uneven terrain and nettles.