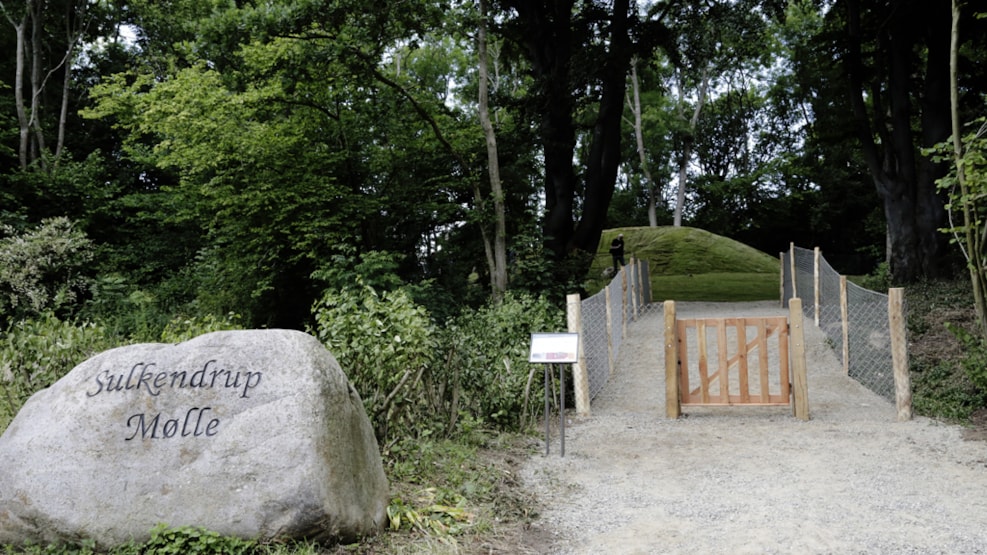 Passage grave in Sulkendrup
5200 year old passage grave in Sulkendrup. 
The passage grave in Sulkendrup
The passage grave in Sulkendrup has the shape of a stone axe with a handle. The passage faces the sun and the light – or the moonrise and the moonset during lunar eclipses.
Similar constructions of passage graves can also be found in the southeastern part of Denmark. The passage grave in Sulkendrup was excavated in the 1910s. Traces of several old graves were found as the passage grave was used for burials throughout more than 3,000 years.
Both in the Neolithic period, the Bronze Age and in the Iron Age, people buried their dead within the mound in different ways. However, the last 20 years, the 5,200-year-old passage grave was sealed off to the public owing to the risk of structural collapse.
Due to the restoration in 2013/2014, the passage grave has once again become an important symbol of Danish prehistory and, from now on, anyone with an interest in ancient history or archaeology can visit the place.