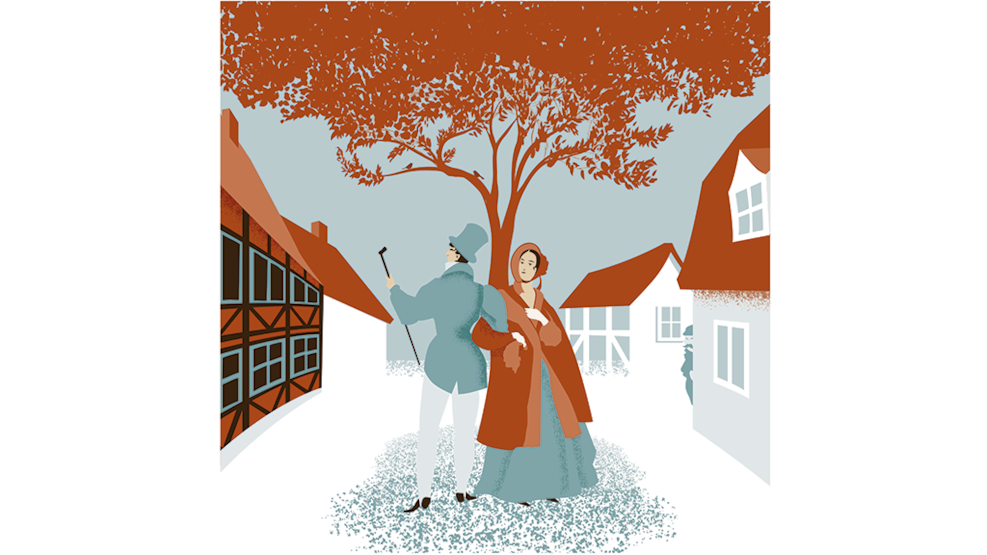 Podwalks: The merchant's invisible legacy
Today you get to take a step back to 1839, where you meet Karl and hear his tale of hope, fear, love, longing and hate. The soundscape of Karl's life offers you a glimpse of what life was like at a time when Nyborg was a very different place, and when being a Jew was not always easy.
The Michelsen family is a Jewish family that fled Poland to settle in Nyborg. In this dramatised podwalk, you hear the story of young Karl, whose life comes to make an incredible difference for an entire nation on the other side of the Atlantic.
Flames of the Soul – Mayor Mads Lerche's House – Slotsgade 11
The young Jew Karl Michelsen walks the streets of Nyborg with his fiancée Mathilde. We get a clear sense of Karl's keen longing to see the world. It is a wish his fiancée does not share with him. The young couple does not notice the ominous figures who are following them.
The Chains of the Past – Karl's home – Kongegade 12
Standing in front of Karl's home, Karl and Mathilde notice a poster that has been nailed to the front door. The poster conveys quite an unpleasant message for him and his family. Soon Karl is accosted by some of the locals. Not everybody in Nyborg is tolerant of the Jews.
The Fall of the Swift – Merchant Hans Kruuse's House – Nørregade 5
Karl is picking up goods from the stores of Hans Kruuse in Nørregade, one of the most successful merchants in Nyborg. Here, the experienced merchant makes Karl an offer that is both frightening, but also difficult to refuse for a young man keen to travel the world. As Karl takes leave of the merchant, another unpleasant surprise awaits him.
Weight of the Cross – 'Korsbrødregården' – Korsbrødregade 2
Karl has fled through the streets of Nyborg to the rectory and the Church of Our Lady, but here the pursuers catch up with him. This time things take an even more violent turn, but fortunately a very special person comes to Karl's rescue. A person who helps Karl make a difficult decision.
The Hidden Heritage – the waterfront
Karl is standing in front of an impressive sailing ship, which can take him out into the big wide world. Can he say goodbye to Nyborg, his family and his fiancée – and embrace an uncertain future? And what is the fate that awaits him out there beyond the horizon? On this day, Karl makes a decision that not only comes to make a huge difference for many, many people, but in fact for an entire nation on the other side of the Atlantic.