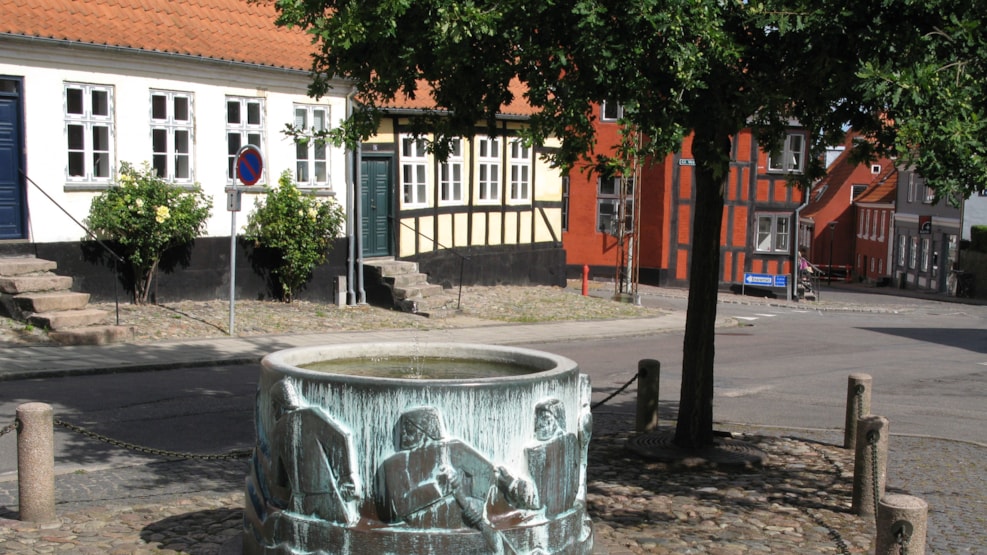 The Porpoise Well
The Porpoise Well is located in the middle of Fisketorvet (The Fish Market) in Middelfart Old Town and was unveiled on October 25, 1957. The well was made by Hans Olsen (1902 - 1983), who was a self-taught sculptor. Hans Olsen had previously made cast copper designs on items such as jars. The Porpoise Well features copper cast images of porpoise hunters.

The Porpoise Well is a unique piece of craftsmanship that symbolises Middelfart's porpoise hunting history. For many years, porpoise hunting was the old market town's main livelihood. Porpoise hunters lived from selling porpoise train oil, which was used for making lamp oil. Porpoise hunters mostly lived in the streets around the Porpoise Well; Knorrgade, Smedegade and Brogade. This area was close to the town centre and harbour, where many of them earnt their living as fishermen or sailors.

Fisketorvet, where the Porpoise Well is located, plays a central role in Middelfart's history. The crossing/square is exactly where the former highway used to run through the town before the Old Lillebælt Bridge was built and Brovejen was established, which is now the connection to the main road towards Odense. Fisketorvet is also home to Middelfart Church and Henner Friiser's house, where you can discover an interesting exhibition about Middelfart and porpoise hunting.