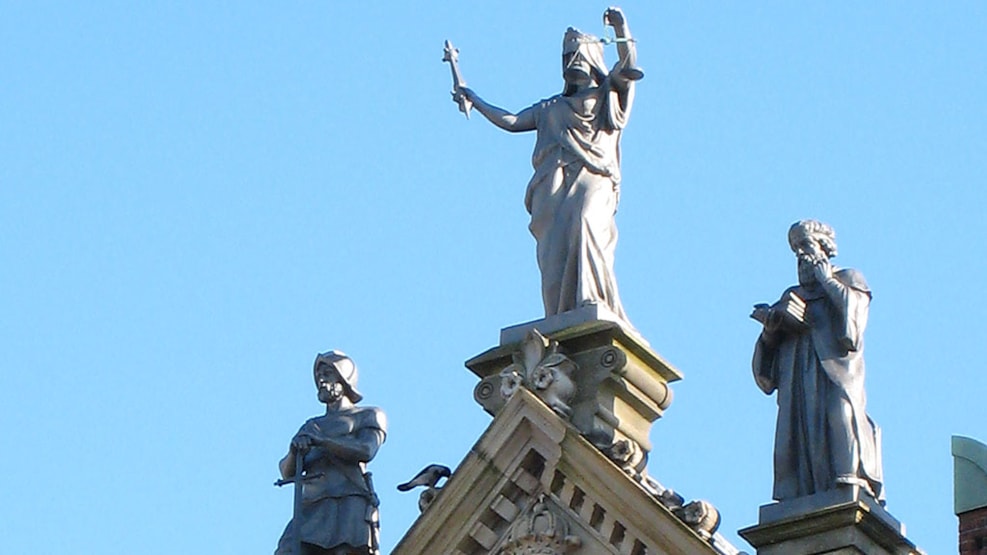 Power, Justice and Wisdom
The Odense sculptor Aksel Hansen's "Power, Justice and Wisdom" reigns over the entrance to Odense City Hall, which was inaugurated on 4 May 1883. The figures symbolize the division of power in the executive, judicial and legislative powers, respectively. The warrior with the sword symbolizes the executive. The goddess of justice Justitia is depicted with a weight bowl. Wisdom is depicted as an old man with a book.
The statues are made of zinc, a cheaper material than bronze. They have originally been painted, but the paint has long since worn off. Wind and weather have corroded the zinc, which is now significantly thinner than originally.
Justice lost its scepter in 1984 and during the December storm of 1999, Power lost its sword. Both damages have subsequently been repaired.
Aksel Hansen (1853-1933) is behind several sculptures in Odense, including Power, Justice and Wisdom, which you will find at the top of Odense City Hall facade.